[Werbung  | Markennennung] 
Hallo Ihr Lieben!
Schon beim Anblick von diesem Nagellack war es um mich geschehen - We the Female war die berühmte Liebe auf den ersten Blick!
Ihn habe ich mir eine Weile aufgespart (à la "save the best for last") - aber wer mitgezählt hat, weiß dass noch eine weitere Farbe der Washington D.C.-Kollektion kommen wird ;-)
Und bis ich vorgestern im Blumenladen stand, hatte ich auch noch keine zündende Idee, wie ich ihn portraitieren wollte. Doch die Beeren der Skimmie passen hervorragend zu ihm, also konnte es losgehen mit den Bildern!
Es ist diesmal die Menge der Fotos betreffend ein wenig eskaliert - ich hoffe, Ihr mögt viele Bilder genauso gern wie ich ;-) 
Ist er nicht absolut wundervoll? :-) Ich habe ihn die ganze Tragedauer mit herzförmigen Augen anstarren müssen, weil die Farbe einfach zu toll ist...
Seine Textur ist cremig, der Auftrag ist erste Klasse! Mit zwei Schichten mit kurzer Trockendauer war die Oberfläche ebenmäßig deckend - so soll es sein! Eine Schicht Topcoat hat seinen schönen eigenen Glanz noch verstärkt. 
We the Female ist beerenrote Perfektion - trotz der guten Pigmentierung hatte ich keine Verfärbungen der Haut beim Clean-Up oder Abnehmen des Lackes. Ich werde ihn sicherlich noch oft in diesem Herbst tragen, denn er gefällt mir sensationell gut.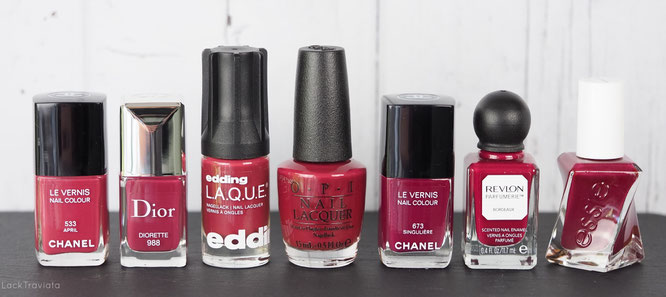 Damit Ihr Euch ein noch besseres Bild machen könnt, habe ich wieder das Lackschränkchen nach eventuellen Doppelgängern durchforstet - die Farben der Kandidaten oben waren auf dem gleichen Swatchstick-Fächer: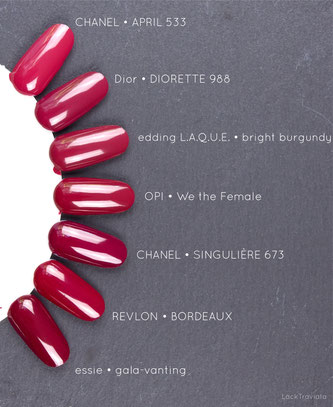 Deutlich mehr ins Rosé gehen APRIL 533 von CHANEL und auch DIORETTE 988 von Dior. Ebenfalls einen Hauch mehr Rosé enthält bright burgundy von edding.
SINGULIÈRE 673 von CHANEL hat mehr Blauanteil. BORDEAUX von REVLON ist etwas roter. Und gala-vanting aus der essie Gel Couture-Reihe ist ebenfalls dunkler - kein Zwilling vorhanden :-)
Nun wünsche ich Euch allen noch einen schönen Sonntag und hoffe, dass er Euch genauso gut wie mir gefällt!
Bis bald und liebe Grüße,
Eure Meike
P.S. Ein Stückchen weiter unten gibt es noch einmal den Blick auf die gesamte Kollektion und die bisherigen Posts zu den Lacken ;-)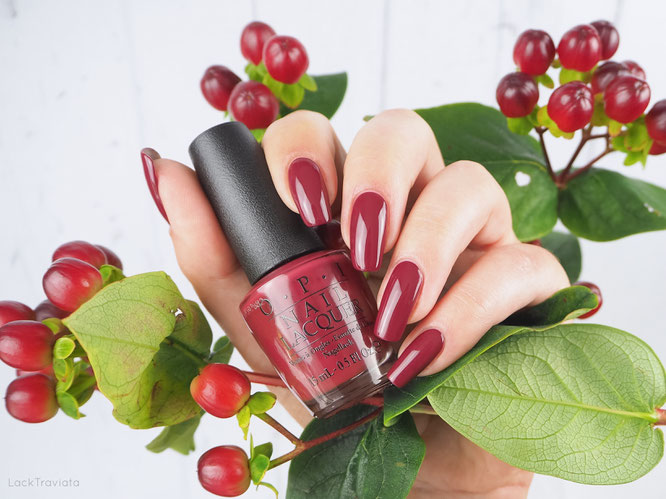 Hier geht es zu den Blogposts der anderen Farben aus der Washington D.C.-Collection: