[Werbung  | Markennennung] 
Hallo Ihr Lieben!
Gleich heute geht es mit der nächsten Farbe aus der Washington D.C.-Kollektion weiter - mit den insgesamt zwölf Nuancen habe ich mir ja ziemlich etwas vorgenommen ;-D
Dieser Farbton heißt Squeaker of the House - am besten lässt er sich als ein sattes Taupe mit einem leicht rosenholzfarbenen Einschlag beschreiben - eine dieser herrlichen "Unfarben", die ich sehr mag.
Beim Lackieren habe ich einen ziemlichen Appetit auf Schokolade entwickelt - wie das bloss kommen mag?! ;-)
Der klassisch elegante und zeitlose Farbton passt sehr gut in den Herbst wie eine heiße Schokolade nach einem Spaziergang durchs Laub bei kühlen Temperaturen... 
Auch dieser Nagellack hat wie die bislang gezeigten Farben der Kollektion eine sehr schöne cremige Textur und überzeugt ebenfalls durch einen einfachen Auftrag. Mit zwei Schichten deckt er gleichmäßig und trocknete zügig durch - was aber auch ein wenig daran gelegen hat, dass ich einen schnelltrocknenden Überlack verwendet habe.
Die Farbe ist nicht ganz leicht einzufangen - mal überwiegt die bräunliche, mal die rosenholzfarbene Note des Lackes. Beim Wechsel zu einem dunkleren Hintergrund scheint er rosiger (in natura schien mein Schafsfell den gleichen Ton zu haben - aber die Kamera belehrte mich eines Besseren). Habe ich schon gesagt, wie toll ich diesen Ton finde? ;-)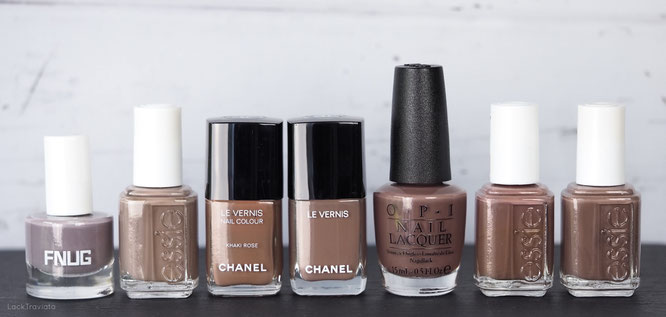 Und weil ich schon einige andere ähnliche Töne in meiner Sammlung habe, habe ich Euch auch dieses Mal einen Lackvergleich aus den hier gezeigten Kandidaten fertiggestellt: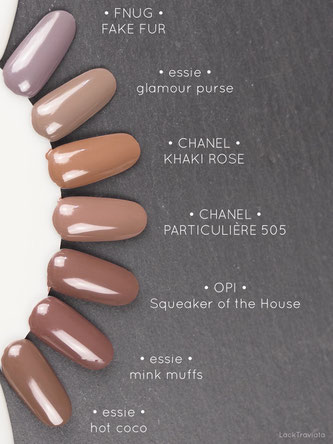 Ursprünglich hatte ich vermutet, dass er dem Klassiker PARTICULIÈRE 505 von CHANEL gleicht, aber dieser ist kühler und deutlich heller. 
Am Ähnlichsten ist ihm noch mink muffs aus dem ehemaligen Standardsortiment von essie, der aber einen höheren Rotanteil hat. Einen echten Lack-Zwilling habe ich zum Glück nicht in meiner Sammlung finden können.
Ich bin gespannt, wie er Euch gefällt! :-) Tragt Ihr auch so gern solche erdigen Töne? Für heute erst einmal einen guten Wochenstart und Monatsbeginn!
Viele liebe Grüße
Eure Meike
P.S. Ein Stückchen weiter unten gibt es noch einmal den Blick auf die gesamte Kollektion und die bisherigen Posts zu den Lacken ;-)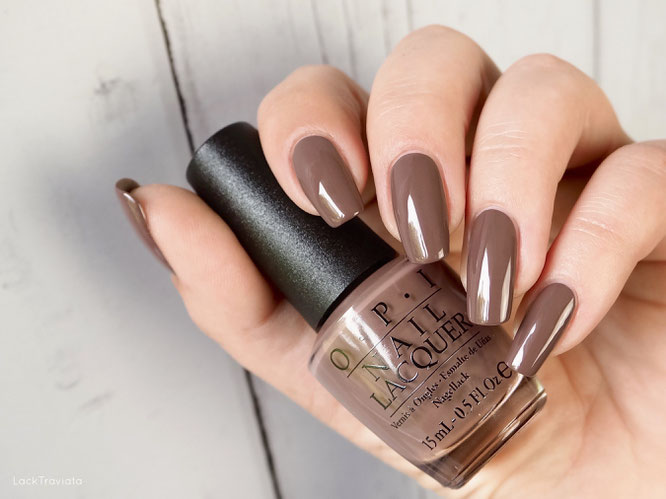 Hier geht es zu den Blogposts der anderen Farben aus der Washington D.C.-Collection: