[Werbung  | Markennennung] 
Hallo Ihr Lieben!
Auch wenn es gerade heute bei über dreißig Grad und strahlend blauem Himmel etwas schräg ist mit einer Herbstfarbe ums Eck zu kommen, möchte ich Euch heute gern den ersten Lack aus der kommenden Washington D.C.-Collection von OPI (die gesamte Kollektion gibt's ganz unten gleich auch noch mal komplett als Übersicht!) vorstellen, die Anfang August in den Handel kommen soll. 
Suzi - The First Lady of Nails ist ein wunderschöner kühler Olivton - und war  Liebe auf den ersten Blick!   
Als ich überlegte, wie ich ihn in Szene setzen wollte, entschied ich mich für eine etwas weniger liebliche Attitüde als sonst - aber das Camouflage-Mäppchen passt einfach zu gut ;-)
Suzi - The First Lady of Nails ist ein Cremelack - die habe ich einfach am liebsten. Er ist hervorragend pigmentiert und deckte mit zwei dünnen Schichten perfekt. Diese waren auch zügig trocken - sehr schön! :-) Wie immer habe ich den Lack mit einer Schicht Insta-Dri von Sally Hansen versiegelt.
Nachdem ich ihn zweieinhalb Tage lang getragen habe, hatte ich keine Chips und nur sehr leichte Tipwear - die Haltbarkeit war sehr gut und hätte ganz sicher noch ein paar Tage mehr mitgemacht, wenn ich nicht wieder die Farbe gewechselt hätte.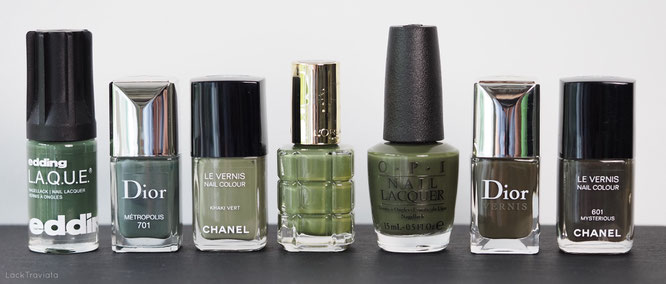 Die Farbe erschien mir vom ersten Moment an sehr einzigartig (zumindest was die ähnlichen Töne betrifft, die sich in meiner Sammlung befinden) - ich habe Euch einen Vergleich fertig gemacht, damit Ihr die Nuance besser einschätzen könnt.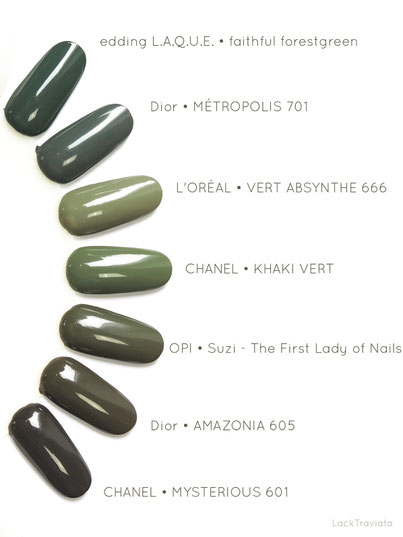 Wie man gut sehen kann, sind all die anderen Farben deutlich anders.
Allzu viele Olivtöne habe ich allerdings (noch!!!) nicht in meiner Sammlung, obwohl ich die Farbe sehr mag.
Das lässt das minimal schlechte Gewissen, dass ich gleich die ganze Sammlung genommen habe, doch gleich ein wenig schrumpfen ;-)
Wie eingangs erwähnt habe ich hier die Übersicht über die zwölf regulären Lacke dieser Kollektion zusammengestellt. Es gibt noch vier weitere limitierte Farben, die ich aber nicht erhaschen konnte. Doch hiermit dürfte ich auch erst einmal eine Weile beschäftigt sein ;-) 
Ich bin gespannt, wie Euch der Nagellack und die anderen elf Farben, die ich Euch natürlich nach und nach alle zeigen werde, gefallen. Bisher gibt es neben diesem Beitrag auch Posts zu:
Eigentlich wollte ich ursprünglich "nur" sieben Farben haben (schlimm, die Herbstkollektionen sind Jahr für Jahr mein Verhängnis!) - aber da es alle zwölf Farben nur als Set zum Preis von fünf Lacken gab, habe ich nicht lange nachgedacht. 
Und ich bin sehr froh darüber! :-)
Viele liebe Grüße und bis bald,
Eure Meike