[Werbung  | Markennennung] 
Hallo Ihr Lieben!
Mit süßen sonnengereiften Pfirsichen lasse ich mich immer gern locken! Mit Freedom of Peach aus der kommenden Herbst-LE Washington D.C., die ab Anfang August in den Handel kommen wird, ist ein Farbton in meine Sammlung eingezogen, mit dem ich mich ausserhalb meiner persönlichen Komfortzone bewege ;-)
Wäre die Farbe nicht im Set enthalten gewesen, das kürzlich bei mir eintraf, hätte ich mich wahrscheinlich nicht für sie entschieden... Dabei bin ich jetzt aber froh darüber, denn sie hat mich positiv überrascht!
Der pfirsichfarbene Nagellack hat nämlich eine leicht rauchige kühle Note, was ihn erstaunlich gut zu meiner ziemlich blassen Haut passen lässt. Peachtöne sind sonst bei mir oft schwierig...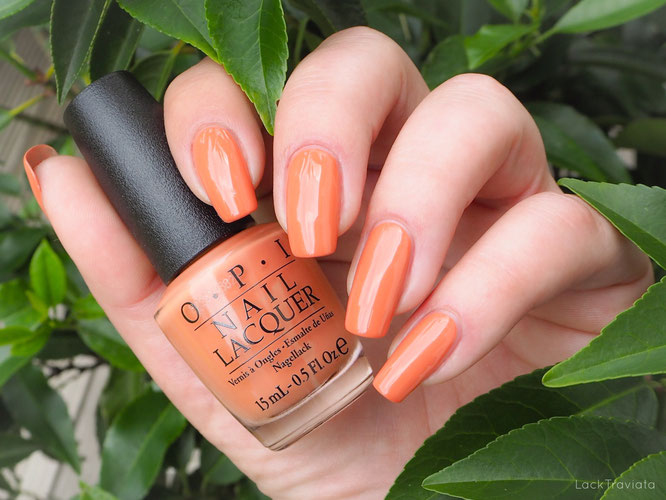 Gar nicht schwierig ist hingegen Freedom of Peach: der Auftrag gelingt wie erwartet sehr gut und die Deckkraft ist super, so dass zwei dünne Schichten für ein ebenmäßiges Finish reichen.
Innerhalb von kurzer Zeit waren diese durchgetrocknet. Auf den üblichen Topcoat habe ich hier verzichtet, weil er nämlich schon einen sehr schönen eigenen Glanz hat und ich die Farbe nicht länger als einen Tag tragen wollte - so ganz warm geworden sind er und ich auch wenn er mir steht leider dennoch nicht.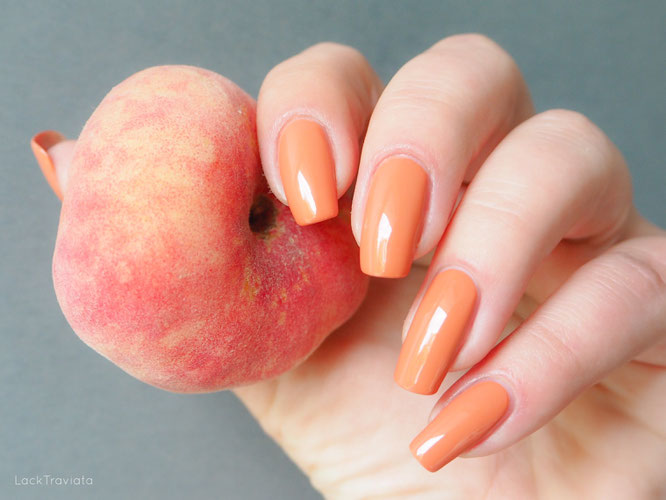 Aber er hat es verdient, gezeigt zu werden - denn er ist ein qualitativ hervorragender Nagellack und die Farbe ist ganz bestimmt für einige ein absoluter Volltreffer :-)
Ich kann sie mir gut zu herbstlichen Outfits und erdigen dunklen Farben vorstellen, aber auch für die Sommermonate ist die Farbe richtig passend. 
Eigentlich hatte ich beim ersten Auftragen der Farben auf Stäbchen vermutet, dass der Ton relativ einzigartig in meiner Sammlung sein würde.
Als ich besagtes Stäbchen dann auf den Fächer sortierte, fiel mir ein Kandidat aus essies Resort-Kollektion aus diesem Jahr auf: taj-ma-haul ist ihm auffalend ähnlich, allerdings einen Hauch heller. 
Mir persönlich gefällt Freedom of Peach besser von beiden, aber das ist natürlich Geschmackssache ;-)
Hier noch einmal ein Blick auf die gesamte Kollektion:
Wenn Ihr reinschauen mögt, gelangt Ihr durch den Klick auf den jeweiligen Namen zu den anderen Farben dieser Kollektion:
Für heute viele liebe Grüße und bis bald!
Eure Meike