[Werbung  | Markennennung] 
Hallo Ihr Lieben!
Wie schon vor ein paar Tagen angekündigt mache ich heute damit weiter, Euch die nächste Farbe aus der kommenden Washington D.C.-Herbst-Kollektion von OPI vorzustellen.
Mit OPI by Popular Vote hätte mein Geschmack nicht besser getroffen werden können - das beerige Pinkrot ist traumhaft schön!
Wie sehr ich diese Farbe liebe zeigt sich auch in meinem Garten - dort habe ich vor ein paar Jahren die Hortensie gepflanzt, die dem Farbton absolut genau entspricht...
Da lag es nur nahe, dass mir eine ihrer Blüten für dieses Nagellack-Shooting Pate stehen sollte :-)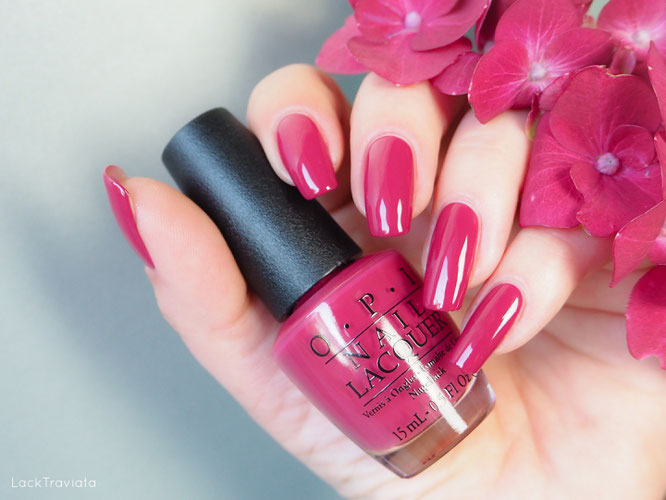 Wie auch schon bei Suzi- The First Lady of Nails hat dieser Lack eine cremige Textur, die den Auftrag zu einem Kinderspiel macht und hervorragend deckt. Zwei schnell getrocknete dünne Schichten reichten für dieses makellos deckende Ergebnis.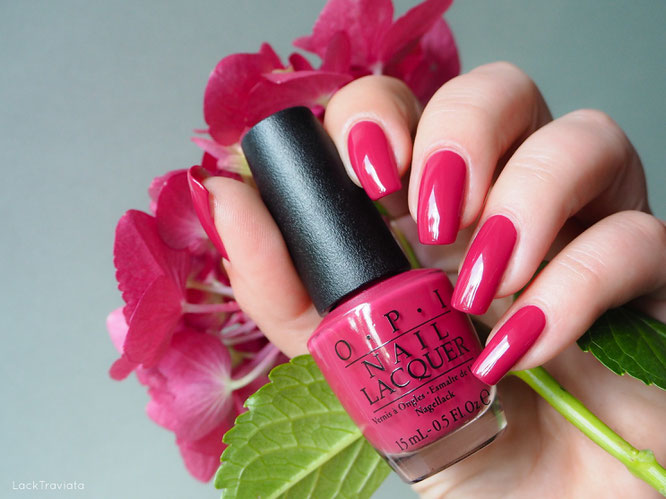 Um den eigenen schon sehr schönen Glanz des Lackes noch ein bisschen zu verstärken aber vor allem, um ihn haltbarer zu machen, habe ich ihn mit einer Schicht Topcoat versiegelt. Das hat sich ausgezahlt, denn so blieb er drei Tage absolut makellos (noch nicht mal Tipwear!). Nach einer ziemlich ausgiebigen Gartenarbeits-Session dann sah er nicht mehr ganz so frisch aus - aber das ist bei solchen Strapazen ja nur normal ;-)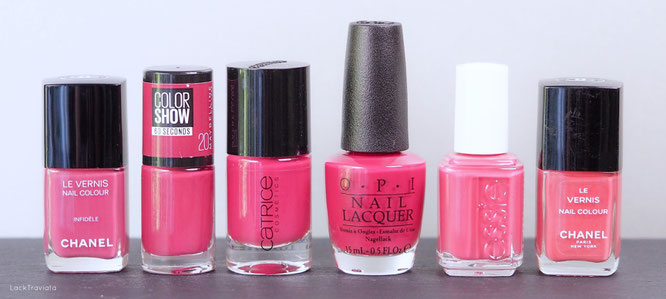 Als ich das Bild der gesamten Kollektion (siehe unten) bei Instagram postete, kam die Frage auf, ob er mrs. always right von essie ähnelte. Deshalb habe ich ein wenig in meiner Swatchstick-Sammlung nach vergleichbaren Farben gesucht und hier diejenigen, die ihm am meisten ähnlich sind, zusammengestellt: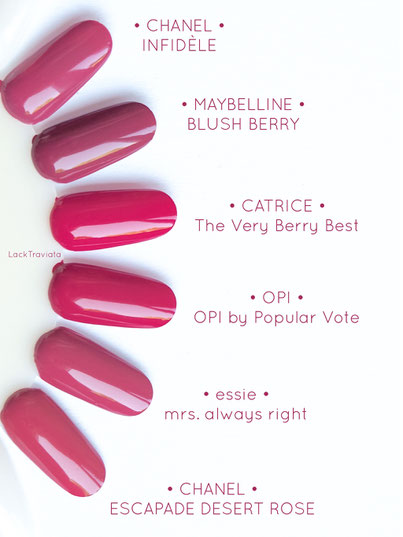 Und siehe da: nein, der essie ist kein Doppelgänger, er ist heller und seine Nuance spielt eher in Richtung Rosenholz.
Verblüffend nah dran ist The Very Berry Best von CATRICE, da ist die Ähnlichkeit noch am höchsten, auch wenn sie nicht identisch sind.
Die anderen Farben sind zwar aus der gleichen Farbfamilie, aber unterscheiden sich deutlicher.
Hier habe ich Euch noch einmal die zwölf regulären Lacke dieser Kollektion zusammengestellt (es gibt noch vier weitere limitierte Farben, die ich aber (noch *grins*) nicht erhaschen konnte): 
Hier geht es zu den Blogposts der anderen Farben aus der Washington D.C.-Collection:
Nun Euch allen noch einen schönen Sonntag und bis bald!
Liebe Grüße
Eure Meike