[Werbung  | Markennennung] 
Hallo Ihr Lieben!
Heute geht es weiter mit dem nächsten Lack aus der kommenden Washington D.C.-Herbstkollektion.
Mit Madam President kommt ein kräftiges Rotpink dazu (OPI beschreibt die Farbe mit "A commanding red with real Oval Office power" - passt!).
Dieser Nagellack leuchtet richtig und hat meine Kamera ein wenig an ihre Grenze gebracht - aber mit kühlem Grau kombiniert habe ich die Nuance bei Kunstlicht schließlich naturgetreu für Euch einfangen können. Aber nun zum Lack! :-)
Wenn Ihr mir schon eine Weile folgt, werdet Ihr bestimmt mitbekommen haben, dass ich eine gewisse Vorliebe für solche Nuancen habe... Gerade der kühle Unterton dieses Lackes hat es mir richtig angetan!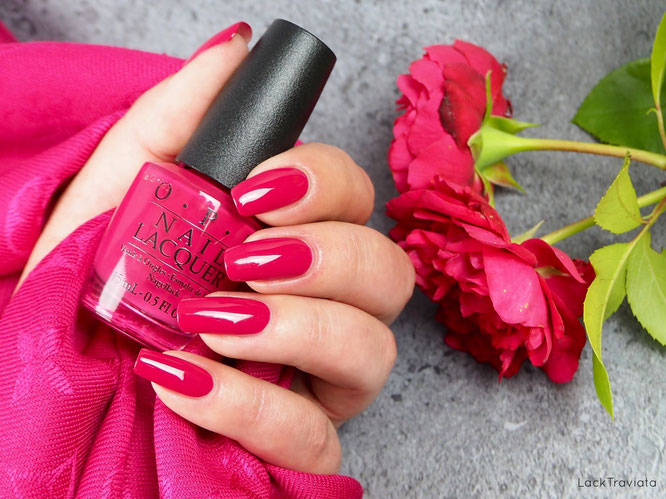 Wie auch bei den zuvor schon gezeigten Farben (siehe weiter unten) handelt es sich bei der schönen Madam President um einen Cremelack. Er ist aussergewöhnlich stark pigmentiert und ein echter Onecoater.
Ich habe dennoch wie immer zwei Schichten aufgetragen, weil mir die Farbe mit nur einer Lage noch nicht satt genug war. Zum Schützen der Farbe und zum Verstärken des Glanzes gab es noch eine Schicht Insta-Dri.
Beim Clean-Up habe ich gemerkt, dass hier möglichst akkurates Lackieren geboten ist - an einem Fingernagel hatte ich nämlich ein Stück weit Nagelhaut mit angemalt (wenn man sich erschreckt, weil plötzlich die Katze meint auf den Tisch springen zu müssen passiert genau das ;-)). Jedenfalls gab es durch die eben beschriebene starke Pigmentierung schon etwas mehr und länger zu reinigen als üblich. 
Beim Abnehmen des Lackes gibt es keine Verfärbungen der Nagelhaut, wenn man den mit Entferner getränkten Pad kurz auflegt und ihn dann zur Nagelspitze hin abzieht. Möglichst nicht hin und her reiben, sondern lieber großzügig mit der Anzahl der genutzten Wattepads sein ;-)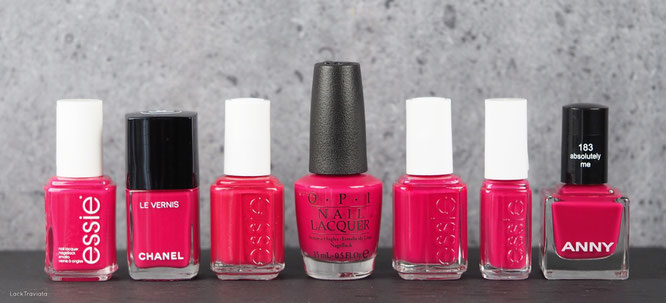 Auch für diesen Lack habe ich wieder einen Vergleich für Euch vorbereitet, denn ich fand gleich ein paar Swatchsticks mehr in meiner Sammlung, die gewisse Ähnlichkeiten haben: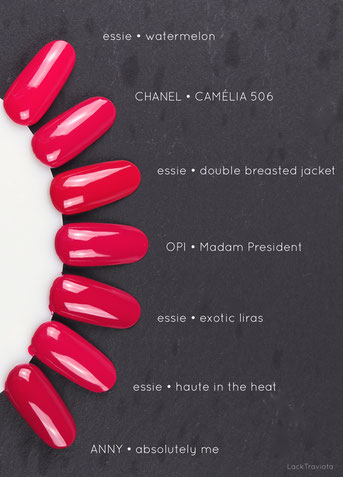 Ähm... ja... ;-))) Fragte man nun einen Laien, würde der einem sagen, dass sie alle gleich sind.  
Ganz so ist es nicht - aber es ist schon frappierend, wie ähnlich er exotic liras oder auch haute in the heat ist. Auch die anderen Kandidaten haben wie Ihr sehen könnt eine große Ähnlichkeit. 
Wenn man solche Töne gern trägt oder die hier vorgestellten anderen Farben nicht in der eigenen Sammlung hat (es waren ja auch einige limitierte Farben dabei), kann ich ihn Euch nur wärmstens ans Herz legen, denn qualitativ ist Madam President wirklich großes Kino!
Nun erst einmal einen schönen Mittwoch und bis bald! :-)
Herzliche Grüße
Eure Meike
P.S. Ein Stückchen weiter unten gibt es noch einmal den Blick auf die gesamte Kollektion und die bisherigen Posts zu den Lacken ;-)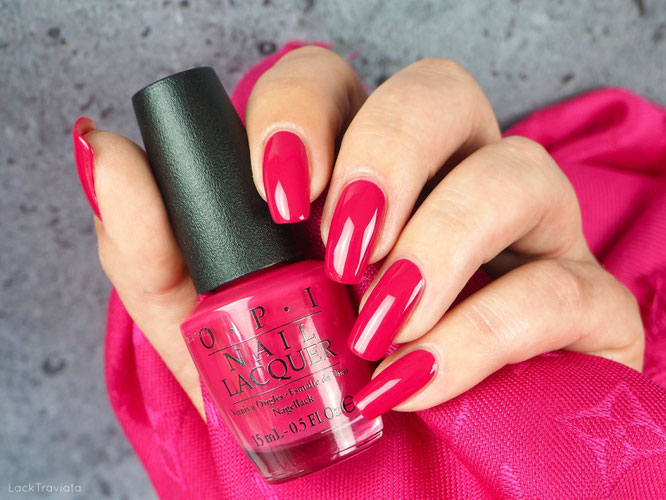 Hier geht es zu den Blogposts der anderen Farben aus der Washington D.C.-Collection: