Hallo Ihr Lieben!
[Werbung • PR-Sample] Ende vergangener Woche erreichte mich nach einer sehr netten Anfrage ein phantastisches Päckchen von OPI Deutschland. 
Darin enthalten war unter anderem die komplette Lisbon Frühjahr-/Sommer-Collection, die mit ihren insgesamt zwölf strahlenden Farben perfekt die farbenfrohe Lebensfreude der portugiesischen Hauptstadt widerspiegelt. Lucky me :-)
Nailmail beflügelt mich ja immer sehr und so setzte ich mich gleich am Wochenende hin und pinselte den ersten Lack auf meine Nägel - Suzi Chases Portu-geese*! 
Und für alle, die sich fragen: Moment mal, hatte sie nicht schon Lacke aus dieser LE gezeigt?! Ja, habe ich :-) Nämlich den korallfarbenen We Seafood And Eat It und den gelben Sun, Sea and Sand in My Pants, die ich mir vor einiger Zeit günstig aus den USA bestellt hatte. Die beiden sind gestern zu meiner lieben Instagram-Freundin Evelyn gezogen - dort werden sie es sicher gut haben. Aber jetzt endlich zur hübschen Suzi, die portugiesisches Federvieh jagt! ;-)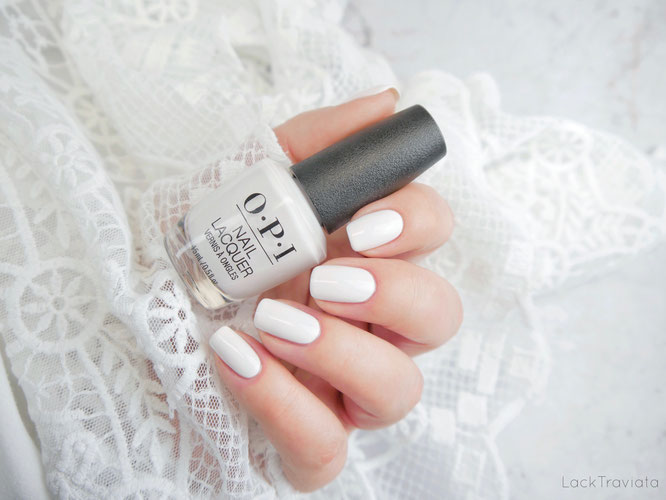 Suzi Chases Portu-geese ist ein klassischer reinweißer Cremelack mit einem minimalen gräulichen Unterton und voll und ganz nach meinem Geschmack. Der Auftrag war wie ich es von meinen anderen OPI-Lacken kenne ein Traum und ging sehr leicht von der Hand.
Er deckt in zwei etwas großzügiger dosierten Schichten und hat eine angenehm kurze Trockendauer. Um ihn zu schützen habe ich eine Lage Topcoat aufgetragen und bin bezuckert vom Ergebnis. Obwohl ich ja nun alles andere als pigmentiert bin sieht er auch zu sehr heller Haut classy und cool aus. I like! :-)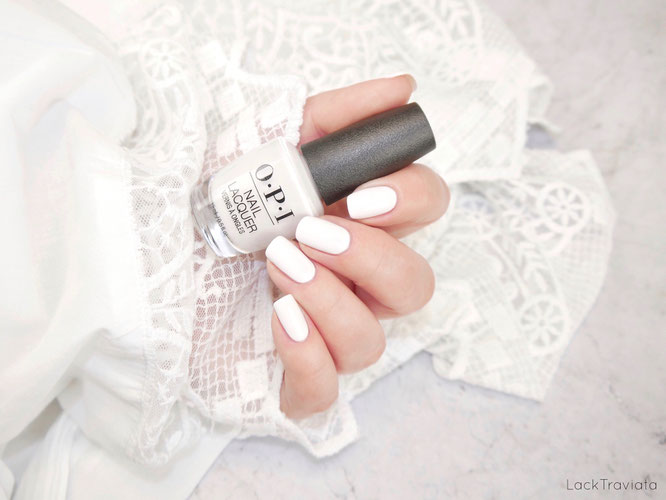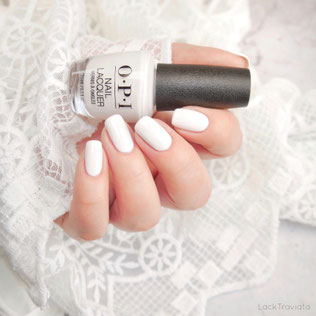 Für das an die Muster der typischen portugiesischen Kacheln erinnernde Stamping habe ich den strahlend blauen Tile Art to Warm Your Heart (NL L25) verwandt, den ich Euch in Kürze ausführlicher zeigen werde. Das Muster stammt von der Moyou Mexico-Palette XL 08.
Der Detailspießer in mir hat zwar zunächst ein wenig herumgemuckert, dass das alles symmetrischer hätte aussehen können - aber es sind ja gerade diese nicht ganz perfekten Kleinigkeiten, die nicht nur den Ornamenten auf den portugiesischen Fliesen ihren ganz eigenen Charme schenken, nicht wahr? Mir gefällt's jedenfalls! Und Euch so? :-)
In den nächsten Tagen werde ich Euch die nächste Nuance dieser Kollektion zeigen - doch bislang habe ich mich angesichts der tollen Auswahl noch nicht entscheiden können, welche es als nächste wird ;-)
Ich wünsche Euch eine gute Zeit bis dahin und schicke liebe Grüße!
Bis bald, Eure Meike
* PR-Sample, der in diesem Post gezeigte Lack wurde mir kosten- und bedingungslos zur Verfügung gestellt. Herzlichen Dank, liebes Team von OPI Deutschland! ♥
Aus dieser Limited Edition habe ich bereits die folgenden Farben gezeigt: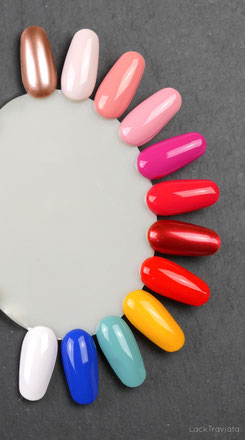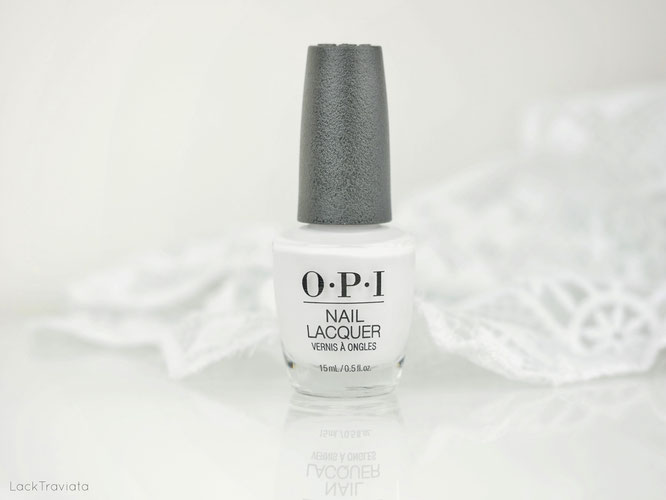 Über Eure Kommentare über die Website-eigene Kommentarfunktion weiter unten freue ich mich genau so sehr wie über DISQUS! Leider bietet die Homepage-Software von JIMDO (noch) nicht an, dass Ihr bei meinen Antworten auf Eure Beiträge benachrichtigt werdet. Hoffentlich ändert sich dies bald. Ich freue mich auf Euer Feedback! ♥