[Werbung  | Markennennung] 
Hallo Ihr Lieben!
 
Haltet Euch gut fest, heute wird es richtig knallig! ;-)

Mit can't filmfest ist der swatch-Marathon meiner neuen Lacke aus der Tropical Lights Collection von essie komplett :-) 

Nachdem ich Euch nun reggae and rum (grün), jewel in the crown (fuchsia), funships (korall) und classical cliché (eisblau) gezeigt habe, ist heute eine Knallerfarbe im wahrsten Sinne des Wortes dran! 
Diese Farbe hat mir die Sprache verschlagen, er leuchtet derart sagenhaft, dass ich oft auf ihn angesprochen wurde...
Kein Wunder, denn dieser Nagellack ist ein wirklicher Hingucker und alles andere als ein Mauerblümchen! Für mich ist er Lebensfreude pur - und ein absolut toller Lack noch obendrein!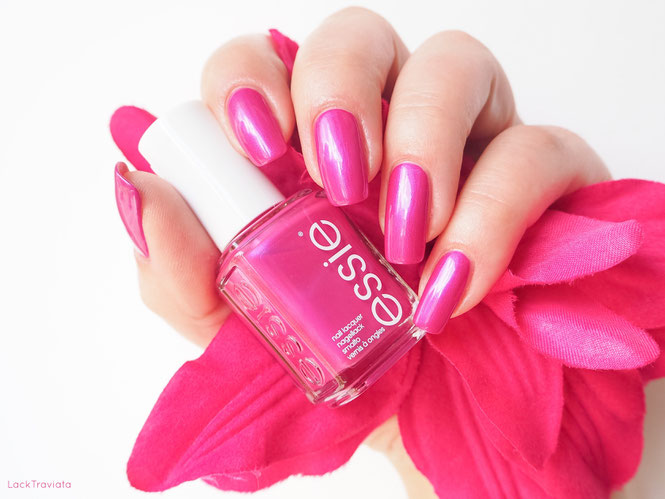 Die Crelly-Textur ist derart fabelhaft pigmentiert, dass er theoretisch schon mit einer Schicht deckt :-) Aber Ihr kennt mich - ich will immer ein maximal ebenmäßiges Finish und so wurden es zwei Lagen can't filmfest plus eine Schicht Topcoat. Beinahe überflüssig zu erwähnen, wie herrlich kurz die Trocknungszeit auch bei dieser tropischen Schönheit war!
Der violette metallische Schimmer gibt dieser Farbe eine unglaubliche Tiefe und Leuchtkraft, sowas habe ich selten erlebt und an dieser Stelle kann ich nur sagen: "Chapeau essie, das ist wirklich großes Kino!". 
Auch die Haltbarkeit war top (allerdings kann ich bislang nur für die Tragedauer von eineinhalb Tagen sprechen - typisches Nailblogger-Problem ;-) ) Und was mich ebenfalls begeistert hat war, dass er trotz der intensiven Farbe beim Clean-Up oder Abnehmen extrem unkompliziert war. 
Solch ein kräftiges Pink ist zwar nicht jedermanns Sache, aber wer die Farbe grundsätzlich mag, sollte sich dieses Sommerjuwel unbedingt sichern :-) 
Für heute erst einmal Euch allen einen schönen ruhigen Abend und viele liebe Grüße!
Eure Meike