[Werbung  | Markennennung] 
Hallo Ihr Lieben!
 
Seid Ihr bereit für Sommerstimmung pur? 
Mit jewel in the crown aus essies neuer Sommerkollektion Tropical Lights könnte die Schönheit tropischer Blüten nicht besser ausgedrückt werden. 
Aber auch die hiesige Flora hat ein solches Fuchsia zu bieten: diese Pfingstrose stammt aus meinem Garten und zählt sowohl mit ihrer Art als auch die Farbe betreffend zu meinen absoluten Lieblingen! :-)
Nachdem es gestern limettengrün wurde, kommt heute der zweite der fünf Lacke an die Reihe, die aus dieser LE in meine Sammlung wanderten.
Wie auch reggae and rum ist jewel in the crown ein Crelly-Lack mit einem hohen Anteil metallischen Schimmers, der dem Nagellack eine strahlend schöne Aura schenkt.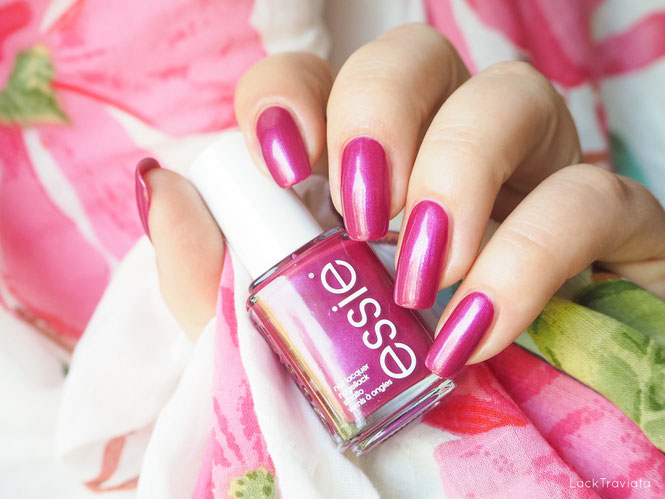 Und hier war es anders als bei reggae and rum - erstaunlicherweise sieht man bei ihm im Finish keine Streifen der Pinselführung :-D Und mein kleiner fuchsiafarbener Schönling hat auch nur zwei Schichten Farbe benötigt, um gleichmäßig zu decken. Ist der nicht einfach wunderschön?
Der Auftrag klappte sehr gut - aber das ist mit den breiten Pinseln der EU-essies ja nicht anders zu erwarten. Auch hier war die Trocknungszeit sensationell kurz - das lobe ich mir doch sehr! :-)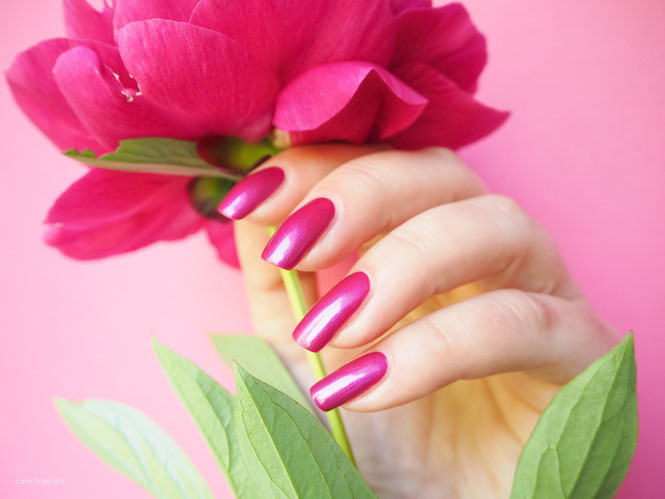 Zum Versiegeln und für einen besseren Halt habe ich wie immer noch eine Lage Topcoat aufgetragen, der das Finish noch strahlender und ebenmäßiger machte. Durch die enthaltenen Schimmerpartikel war diese nämlich zuerst nicht ganz glatt.
Diese Farbe und das korallfarbene "funships", das ich Euch in den nächsten Tagen natürlich auch noch zeigen werde, gehören eindeutig zu meinen Favoriten dieser Limited Edition. 
Als ich jewel in the crown zum ersten Mal sah, fühlte ich mich unweigerlich an einen anderen essie aus meiner Sammlung, nämlich the lace is on, erinnert.
Deshalb habe ich ihn herausgesucht und die beiden Farben für Euch miteinander verglichen: dieser essie ist deutlich mehr fuchsiafarben als die andere Schimmer-Schönheit, die mehr ins Violett spielt. Eine andere Farbe dieser Art beherbergt meine Sammlung nicht - zumindest keine mit Schimmer ;-)
Ich hoffe, Euch hat dieser Post gefallen und wünsche Euch einen schönen Sommer-Sonntag!
Bis bald und viele liebe Grüße
Eure Meike