[Werbung  | Markennennung] 
Hallo Ihr Lieben!
 
Weiter geht es mit den tollen Farben aus der neuen Sommerkollektion Tropical Lights von essie!
Nach reggae and rum (grün) und jewel in the crown (fuchsia) ist heute die nächste schimmernde Schönheit mit dem Namen funships an der Reihe, Euch genauer vorgestellt zu werden. 
Dieses herrliche Korallrot schreit förmlich nach Sommer und ist mein absoluter Liebling dieser Limited Edition - zum einen natürlich wegen der sensationellen Farbe, dann aber auch aufgrund der hervorragenden Qualität!
Für einen Crelly-Lack ist funships extrem gut pigmentiert, was das Lackieren zu einer echten Freude macht.
Zwei dünne Schichten reichten für ein ebenmäßiges, streifenfreies Finish. Auch dieser Lack begeisterte wieder durch eine schön kurze Trocknungszeit. Den schnelltrocknenden Topcoat hätte es hier eigentlich nicht gebraucht, aber er verstärkt den Schimmer noch ein wenig, was mir sehr gut gefällt :-)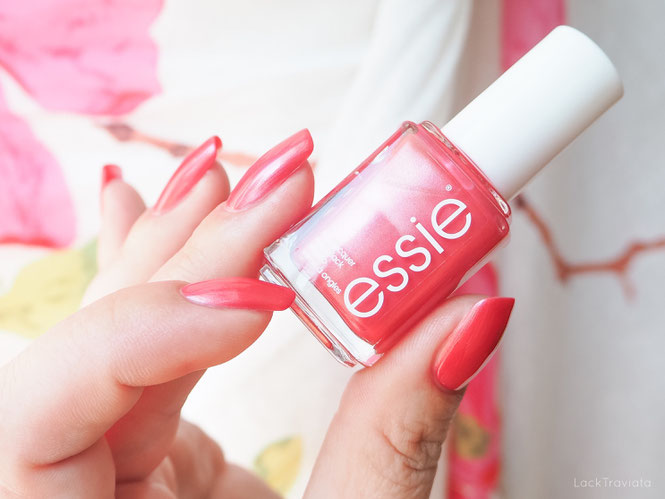 Wie gefällt Euch dieser Farbton? Mögt Ihr solche Nuancen auch so gern wie ich? :-) Für mich ist er wie gesagt ein echter Traum in jeder Hinsicht und ich kann ihn Euch uneingeschränkt empfehlen!
Hoffentlich hattet Ihr alle einen guten Start in die Woche und könnt an Eurem Feierabend noch ein wenig die Sonne genießen!
Für heute ganz herzliche Grüße und bis bald, 
Eure Meike