[Werbung  | Markennennung] 
Hallo Ihr Lieben!
 
Um dem Motto der letzten Tage treu zu bleiben, geht es heute fröhlich weiter mit essies neuer Tropical Lights Collection.

Neben reggae and rum (grün), jewel in the crown (fuchsia) und funships (korall) sind noch zwei weitere Farben dieser Limited Edition bei mir eingezogen - eine weitere stelle ich Euch heute vor: classical cliché.

Im Fläschchen erinnert mich das kühle helle Blau mit frostigem Schimmer etwas an Eis und Schnee - zum Glück ist es aber gerade deutlich angenehmer draußen!
Im Gegensatz zu den bisher gezeigten Lacken dieser Kollektion ist dieser hier deutlich flüssiger und geht mehr in die Richtung Jelly denn Crelly.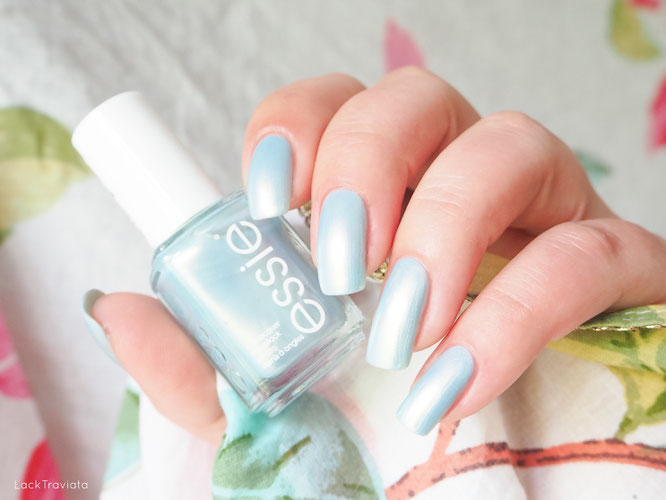 Was seine Pigmentierung betrifft, habe ich mich schon besser amüsiert - er ist ziemlich sheer und ich habe im ersten Anlauf drei Schichten für ein beinahe deckendes Ergebnis benötigt. Aber diese Farbe ist es meines Erachtens absolut wert und die Trocknungszeit ist schön kurz.
Allerdings neigt diese hübsche Farbe leider leicht zur Bildung von Streifen. Weil ich gleich nach dem Lackieren mit den Fotos starten wollte, habe ich mir versehentlich die Nägel so verschrammt, dass ich noch mal von vorn beginnen musste. Diesmal entschied ich mich dafür, als Basislack salt water happy  aus der Sommerkollektion des letzten Jahres aufzutragen, denn diese Farbe ist beinahe einhundertprozentig identisch, nur fehlt ihr der Schimmer, den classical cliché in sich trägt.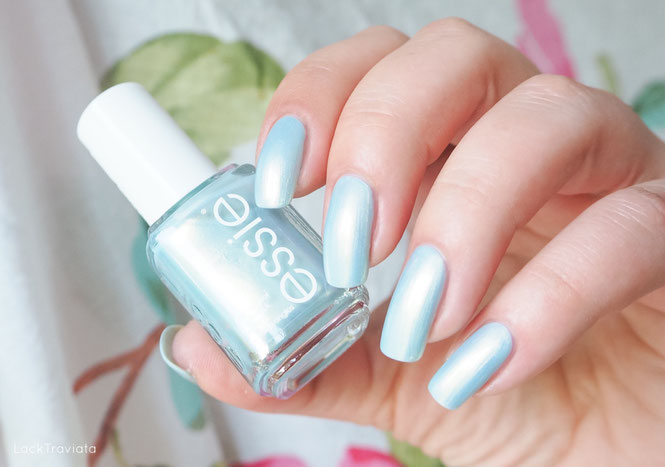 Das war eine sehr gute Idee, denn so benötigte ich nur den Basecoat, eine Lage salt water happy und nur eine sagenhafte Schicht von classical cliché. Und endlich war das Finish deckend, halb sheer sind mir solche Farben zu altbacken ;-) Ich bin sicher, dass auch weiß, find me an oasis oder ein anderer sehr heller deckender Blauton geeignet gewesen wäre, hier für eine deckende Basis zu sorgen, denn der Lack hat schon eigene Farbe - nur eben nicht so viel wie ich ursprünglich hoffte.
Jedenfalls bin ich mit diesem Ergebnis nun mehr als happy! Übrigens liessen sich eingangs erwähnte Streifen so auch besser vermeiden und mit einer Schicht Topcoat zum Schluss beinahe komplett wegzaubern :-) Ende gut, alles gut! ;-)
Habt einen schönen Dienstagabend!
Herzliche Grüße und bis bald, 
Eure Meike