[Werbung  | Markennennung] 
Hallo Ihr Lieben!
Als vierten und letzten Lack aus essies neuer Resort-Kollektion möchte ich Euch heute "nama-stay the night" gern genauer vorstellen.
Was für eine Farbe! Ich habe ja schon einige Knaller-Blautöne in meiner Sammlung, z.B. fällt mir zu einer ähnlichen Intensität "VIBRATO" von Chanel ein, doch der ist dunkler und dieser tolle essie ist definitiv anders und bislang einzigartig für mich. Derart leuchtend ist keiner meiner anderen blauen Lacke! Die Farbe ist wirklich ungewöhnlich und mag polarisieren - ich finde sie absolut großartig! 
Und das Gleiche lässt sich von "nama-stay the night" auch sagen: Wieder ein Cremelack, wieder eine geniale Pigmentierung und Trocknungszeit - und das Beste ist, dass er ein echtes One-Coat-Wonder ist!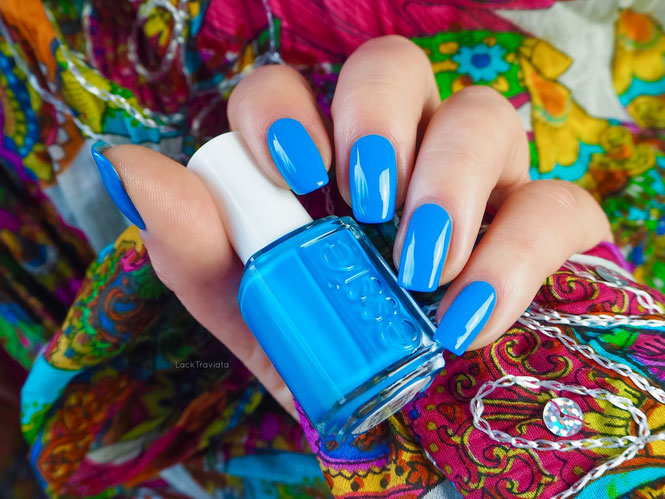 Na gut, ich geb's zu: in meiner leicht nerdhaften Art habe ich es nicht lassen können, der Gewohnheit schuldend zwei Schichten Farbe aufzutragen, diese waren ratzfatz trocken.
Die zweite Lage wäre aber nicht zwingend nötig gewesen, denn er deckt wirklich hervorragend! Und das beste ist, dass er trotz dieser intensiven Pigmentierung keine Verfärbungen beim Clean-Up oder Abnehmen der Farbe verursacht. Perfekt :-)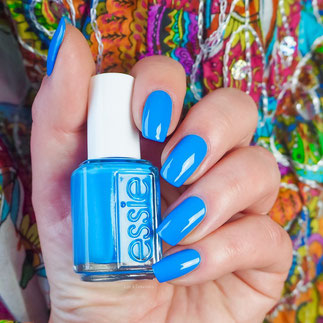 Das "Schlumpfinchen aus Bollywood" ist jedenfalls der Überraschungskandidat aus dieser Kollektion für mich!
Und je länger ich ihn auf den Nägeln habe, umso mehr könnte ich vor Verzückung quieken! ;-) 
Ja, diese Farbe ist laut und fällt auf - aber gerade das macht mir wahnsinnig viel Spaß!
Was haltet Ihr von "nama-stay the night"? Ich hoffe, dass ich Euch ein wenig neugierig auf ihn machen konnte, denn es ist wirklich ein richtig toller Nagellack. Klar - er ist nicht alltäglich und wahrscheinlich auch nicht die erste Farbe der Wahl für seriöse Auftritte. Aber zu der passenden Gelegenheit (und da fallen mir spontan so einige ein) ist er doch ein echter Knaller :-)
Die anderen drei Töne "taj-ma-haul" (orange), "delhi dance" (pink) und "going guru" (pistazieneisgrün) habe ich für Euch hinter den Namen der Lacke noch einmal verlinkt, damit Ihr die gesamte Kollektion auf einen Blick habt!
In diesem Sinne einen schönen Abend und bis zum nächsten Blogpost!
Herzliche Grüße
Eure Meike