Hallo Ihr Lieben!
[Werbung] Mit der Farbe grün verbindet mich die ganz große Liebe - bis ich mich traute, dies auch auf den Nägeln zu zeigen hat es aber ein bisschen gedauert. Bei manchen Sachen dauert es ein wenig, bis man sich zu ihnen bekennt und sich traut... ;-)
Also ich bin Meike, hab nen ausgeprägten Lackschaden und liiiiiiieeeeebe grün. Auch auf den Nägeln.
Nicht nur deshalb hat es mich riesig gefreut, dass ich mir neben Perfect Emerald, den ich Euch neulich schon gezeigt  habe, noch einen weiteren grünen Lack bei Polish Molish aussuchen durfte :-)
Sky Gardens* stammt aus der Seven Wonders of the World Collection und könnte die sagenhaften hängenden Gärten der Semiramis im antiken Babylon doch nicht besser verkörpern. Hach!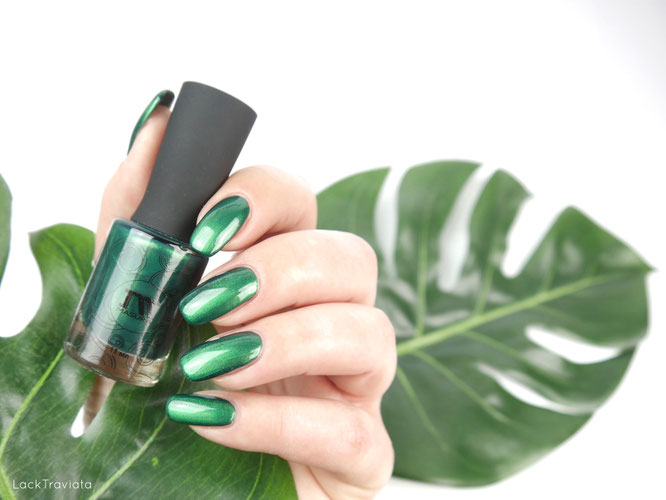 Dieses Grün enthält alles: es ist so tief und dunkel wie schwere, reife Blätter in späten Sommertagen und gleichzeitig steckt in genau jenem Fläschchen auch das zarte helle Grün, das im Frühjahr die Rückkehr des Lebens ankündigt. Hach, ich werd ja beinahe etwas poetisch - und dabei trinke ich hier beim Schreiben schnöden Pfefferminztee und noch nicht mal was mit Umdrehungen ;-)))
Aber mal ehrlich - und auch wenn ich weiß, dass Ihr vermutlich nicht zwingend die gleiche Begeisterung für eine solche Lackfarbe aufbringen mögt wie ich: das ist doch wirklich eine Knallerfarbe, oder? :-)
Dass sie all Ihre Facetten zeigen kann, liegt auch ein Stück weit am Magneten, mit dem ich diesmal ein wenig anders als bisher gearbeitet habe. Anstatt ihn nämlich schräg zum Nagel zu halten, habe ich ihn diesmal in der Längsrichtung angewandt, was längst nicht so auffällig ist wie hier, hier oder hier - aber hey: ich find's großartig :-D Und Ihr so?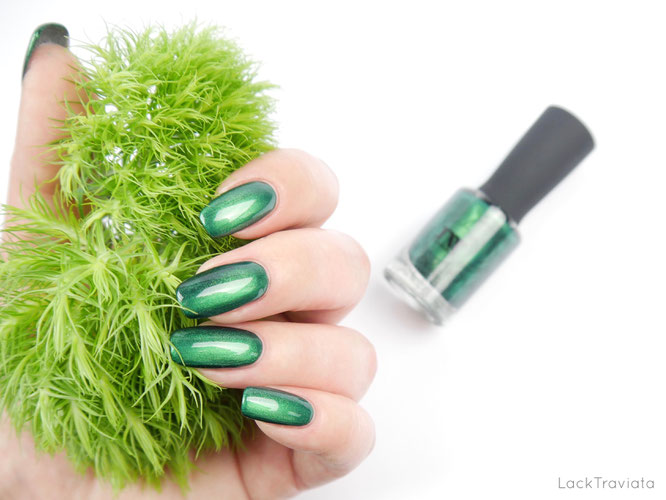 Was Auftrag (einfach), Deckkraft (gut) und Haltbarkeit (super) betrifft ist er ist seinen bisher gezeigten Geschwistern sehr ähnlich und ich kann ihn nur in den höchsten Tönen loben. 
Auf einer schwarzen Base habe ich zwei dünne Schichten lackiert und diese abschließend mit einer Lage Topcoat versiegelt. Die einzelnen Schichten (bis auf die Base) habe ich mit dem Magneten von Masura bearbeitet. Wie genau ich das gemacht habe, habe ich hier schon einmal ausführlich beschrieben - ich hoffe, es ist okay dass ich das nicht noch mal wiederhole ;-) Zwar ist es nicht ganz unaufwändig, aber ich finde, dass es das Ergebnis eindeutig wert ist :-)
Ich bin gespannt, wie er Euch gefällt und wünsche Euch einen schönen Tag! 
Herzliche Grüße und bis bald
Eure Meike
* PR-Sample, dieser Nagellack wurde mir kosten- und bedingungslos zur Verfügung gestellt. Herzlichen Dank, liebe Anastasia von Polish Molish!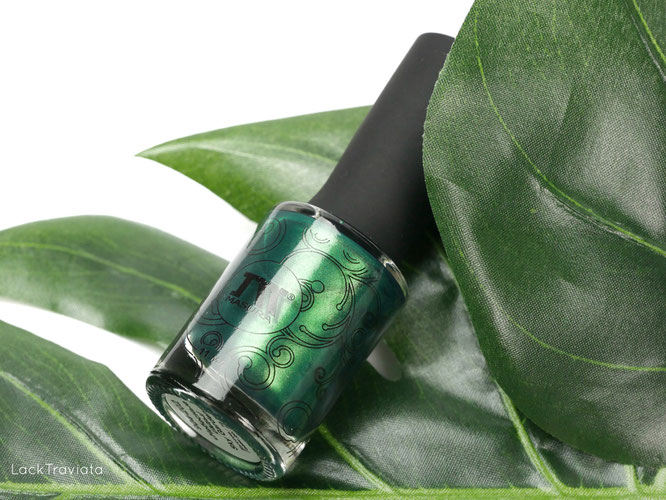 Für Kommentare über die Website-eigene Kommentarfunktion benötigt Ihr übrigens keine eigene Homepage, lasst dieses Feld einfach frei - das geht auch ohne ;-) Ich freue mich auf Euer Feedback! ♥