Hallo Ihr Lieben!
Zu Einläuten des vierten Adventswochenendes (thank God it's Friday!) kommt mit Red-y to Glow* ein klassisches, strahlendes Rot auf die Nägel.
Auch wenn ich was die Farbwahl betrifft generell recht experimentierfreudig bin, so sind rote Nägel für mich einfach das Nonplusultra - Rot geht für mich wirklich immer!
Und deshalb habe ich mich auch sehr gefreut, dass neben dem kürzlich gezeigten Unwine'd ein weiterer toller Rotton mit im Sally-Hansen-Päckchen war, der nun endlich auch an der Reihe ist, Euch vorgestellt zu werden.
Wie begeistert ich von der neuen color therapy-Linie bin, hatte ich ja neulich schon hier ausführlich berichtet - und auch Red-y to Glow ist wie seine "Brüder" ein durch und durch toller Lack!
Durch die cremige Textur liess sich der Nagellack sehr gut auftragen. Die beiden dünnen Schichten, die ich hier lackiert habe, waren im Nullkommanix trocken. Versiegelt habe ich sie mit dem zur Serie gehörenden color therapy Topcoat, der das Finish nochmal ein wenig mehr glossy macht und ebenfalls ruckzuck durchgetrocknet war.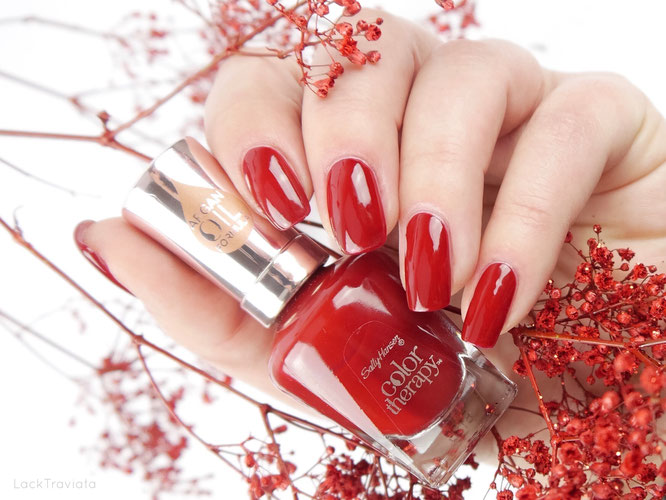 Ich wünsche Euch allen einen guten Start in ein hoffentlich schönes und entspanntes Wochenende!
Bis bald und herzliche Grüße
Eure Meike
* PR-Sample, dieser Lack wurde mir kosten- und bedingungslos zur Verfügung gestellt. Ich freue mich, dass mir das liebe Team von Sally Hansen die Möglichkeit gegeben hat, sie auszuprobieren und vorzustellen - vielen Dank dafür! :-)
---
Die Farben dieser Reihe, die ich bislang vorgestellt habe, habe ich Euch hier verlinkt: