[Werbung  | Markennennung] 
Hallo Ihr Lieben!
Als ich neulich im London-Urlaub das frisch gefüllte OPI-Display mit der Alice through the Looking Glass Collection entdeckte, kam neben Oh My Majesty! und Mad for Madness Sake noch ein weiterer der insgesamt acht Nagellacke der LE mit ins Körbchen: 
What's the Hatter with you ist für mich ein Lack voll und ganz nach meinem Beuteschema!  Mit satten kühlen Beerentönen kann man mich so leicht ködern wie mit Pommes Frites mit Mayonnaise - wobei sich letztere ungünstig auf den Hüften machen ;-) Und dieser Lack macht einfach nur hübsche Nägel und kein schlechtes Gewissen!
Sowas wie ein schlechtes Gewissen ereilt mich zwar schon manchmal, wenn ich beim Nagellack-Kauf ein wenig über die Stränge geschlagen bin - aber es hält beim Anblick der schönen Farben nie sonderlich lange :-D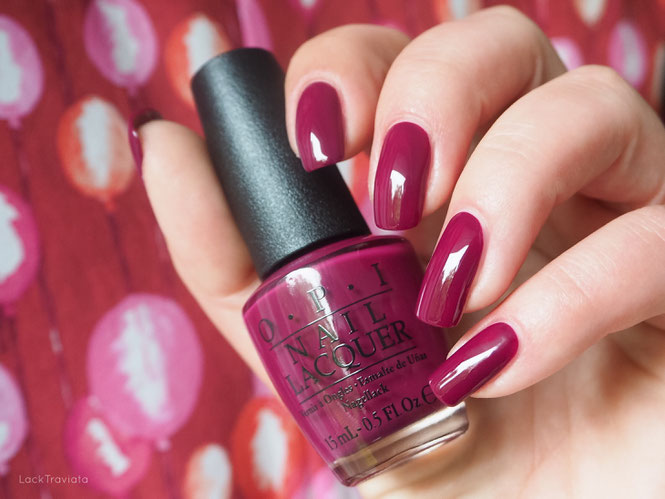 Und mal ehrlich: bei dem Anblick wäre das schlechte Gewissen doch spätestens dann gekommen, wenn ich ihn NICHT mitgenommen hätte! Denn er ist wirklich ein richtig toller Lack! Auch er hat eine cremige, sehr lackierfreundliche Konsistenz, die den Auftrag kinderleicht macht.
Und er ist sehr gut pigmentiert - für dieses Ergebnis habe ich zwei dünne Schichten (plus eine Lage Überlack) lackiert, die schnell durchgetrocknet waren. Im Fläschchen sieht er etwas mehr violett aus, auf den Nägel allerdings ist er Beere in Perfektion!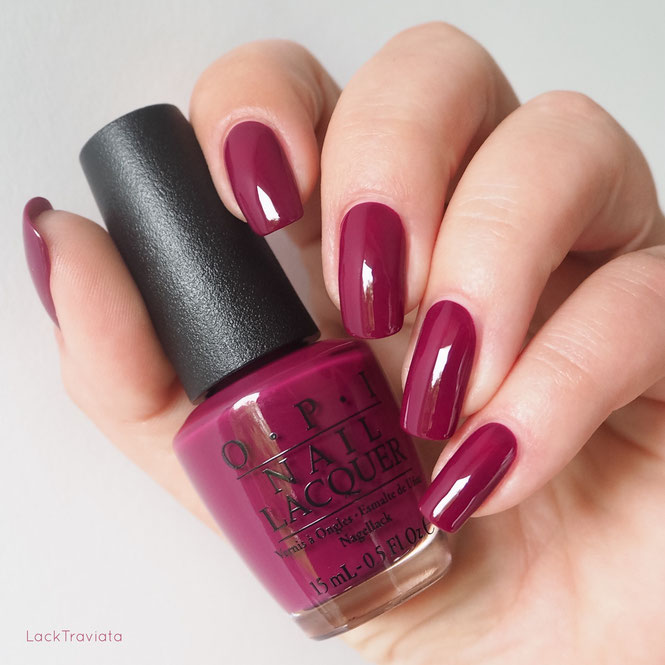 Den passionierten Lacksammlern unter Euch wird beim Anblick der Farbe sicherlich der ein oder andere Lack der gleichen Nuance eingefallen sein ;-) Und deshalb habe ich ein wenig im Lackschränkchen gekramt und ähnliche Töne für einen Vergleich herausgesucht: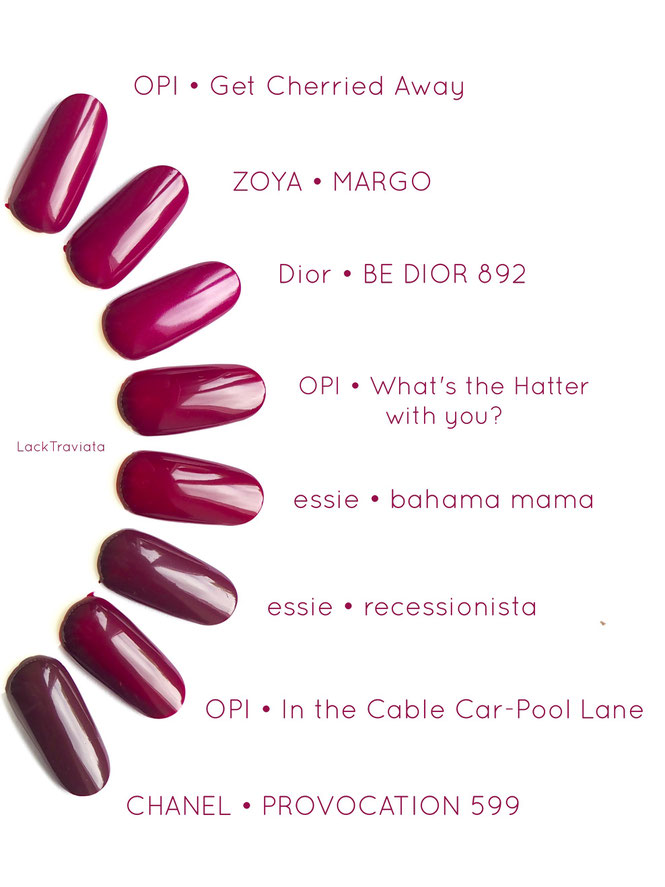 Get Cherried Away trägt einen größeren Fuchsianteil wie auch MARGO von ZOYA oder auch der BE DIOR von Dior. Die allergrößte Ähnlichkeit hat er mit essies bahama mama, die beiden gehen glatt als Zwillinge durch! Allerdings ist der OPI bei gaaaanz genauem Hinsehen einen Hauch blauer. Es ist aber wirklich nur ein Hauch. Der recessionista von essie geht zwar wie In the Cable Car-Pool Lane und PROVOCATION 599 in die gleiche Farbrichtung, diese Lacke sind aber allesamt dunkler. 
Da mein bahama mama sich allmählich einem schwer zu lackierenden Füllstand genähert hat, brauche ich kein eingangs erwähntes schlechtes Gewissen zu haben ;-) Den What's the hatter with you? liebe ich nämlich genauso sehr und ich bin froh, dass ich ihn mitgenommen habe :-)
Einen schönen Dienstagabend und liebe Grüße!
Bis bald, Eure Meike