[Werbung  | Markennennung] 
Hallo Ihr Lieben!
Aus der diesjährigen Wedding-Limited Edition ist noch ein dritter Lack neu in meine Sammlung gekommen - between the seats musste ich auch unbedingt haben.
"Unfarben" wie diese haben mich schon immer magisch angezogen, also war klar, dass ich diese offwhitefarbene Schönheit nicht auslassen konnte. 
Nachdem ich Euch kürzlich den Namensgeber der LE mrs. always-right und auch passport to happiness gezeigt habe, ist nun dieser Nagellack an der Reihe, genau vorgestellt zu werden... 


Er erinnerte mich von Anfang an an DEN Lack der Sommerkollektion 2014 - urban jungle.
Und tatsächlich sind sich beide Lacke sehr ähnlich. Einen sehr guten Vergleich hierzu hat übrigens @dieloola gemacht *klick*. Auch between the seats habe ich schon sehr ins Herz geschlossen!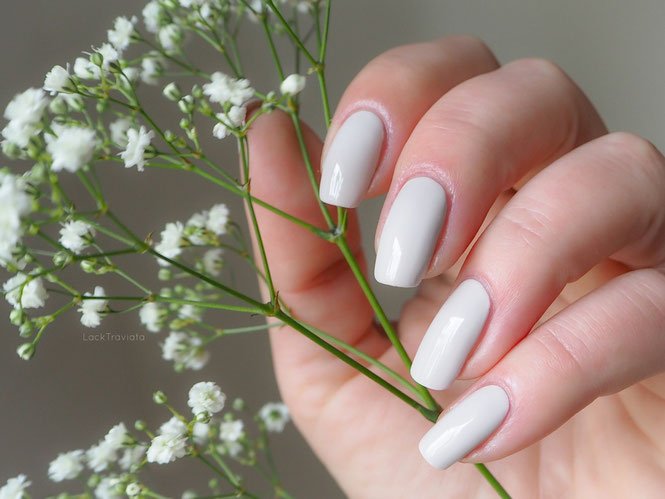 Die Textur dieses Lackes ist auch wie die von urban jungle cremig, er deckt in zwei Schichten. Allerdings sind diese nicht ganz unkompliziert gewesen. Ich habe die Bilder erst beim zweiten Anlauf machen können, weil der erste Versuch ziemlich streifig wurde. Diese Schwierigkeiten können aber auch am schmalen Pinsel der Professional-Application-Version gelegen haben, obwohl ich mit denen für gewöhnlich viel besser als mit den breiten Pinseln der EU-Versionen von essie klarkomme...
Das Ergebnis allerdings entschädigt für alles! :-) Er sieht je nach Lichtintensität mal grauer, mal taupefarbener aus, sehr schön! Die Trockenzeit und die Haltbarkeit betreffend kann ich nur den Daumen nach oben strecken - das kann essie einfach immer!
Auch wenn ich auch urban jungle besitze, bin ich froh, dass ich mich auch für between the seats entschieden habe, denn solche Farben trage ich an solchen Tagen, an denen ich mich auf keine bestimmte Farbe festlegen mag, immer sehr gern :-) 
Habt Ihr die LE auch schon entdeckt? Welche Nuancen sind es bei Euch geworden?
Für heute einen schönen Sonntagabend!
Herzliche Grüße und bis bald
Eure Meike