[Werbung  | Markennennung] 
Hallo Ihr Lieben!
In meinem letzten Blogpost schrieb ich ja schon, dass neben dem kürzlich vorge-stellten mrs. always-right noch zwei weitere Nagel-lacke aus der Wedding-Collection von essie bei mir einziehen durften. 
Heute möchte ich Euch passport to happiness vorstellen - ein leicht rauchiger Mintton, der einen hauchfeinen Schimmer in sich trägt und je nach Lichteinfall etwas grünlicher oder auch bläulicher wirkt.
Damit Ihr sehen könnt, wie facettenreich dieser Lack ist, sind es diesmal wieder ein paar Bilder mehr geworden ;-) 
Das zarte Mint passt perfekt in den Frühling - auch wenn ich ihn nicht als klassische Brautfarbe bezeichnen würde, so wäre er auf jeden Fall ein toller Kandidat für die Flitterwochen :-)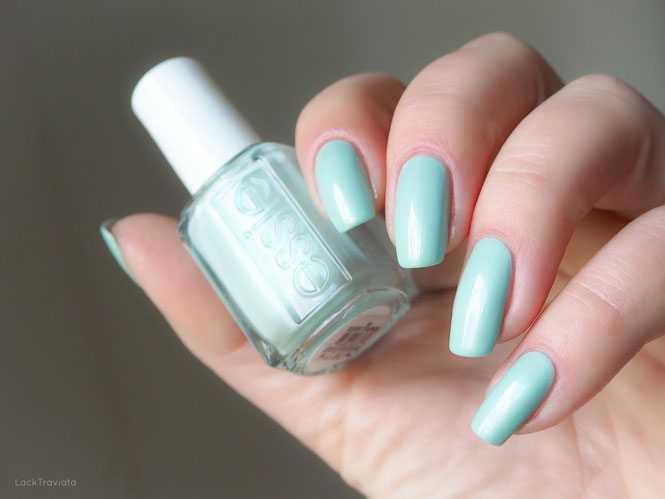 Seine Crelly-Textur trocknet ziemlich schnell, was ihn für mich ein wenig anspruchsvoller im Handling machte. Vielleicht liegt es auch an der Größe und Länge meiner Nägel, aber ich brauchte drei Farbschichten, bis er einwandfrei deckte.
Doch sein sanfter Schimmer entschädigt für das Bisschen mehr an Aufwand. Mir gefiel ausserdem sehr gut, dass die Trocknungszeit bei ihm wirklich schön kurz ist - und wenn man dünne Schichten aufträgt, geht es noch etwas schneller. Das Ergebnis ist es aber auf alle Fälle wert :-)
Die Haltbarkeit war klasse, in zwei Tagen nicht eine Macke, so lobe ich es mir - vermutlich hätte er auch noch länger gehalten, wenn nicht schon wieder eine neue Farbe aufgepinselt hätte ;-)
Den dritten Lack aus dieser LE, der es in meine Sammlung geschafft hat - between the seats (off-white) - bekommt Ihr auch ganz bald zu sehen!
Für heute einen schönen Abend und bis bald!
Liebe Grüße
Eure Meike