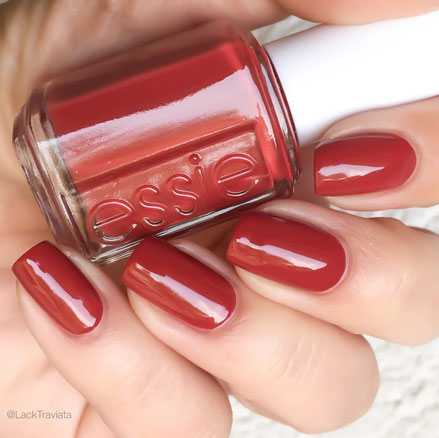 [Werbung] 
Hallo Ihr Lieben!
Als vierten Lack der wunderschönen essie-Leggy Legend-Kollektion stelle ich Euch heute "with the band" vor :-)
Was wäre eine Herbstkollektion ohne ein Rot? Und noch dazu, wenn es ein so traumhaftes Rot ist wie bei diesem Lack... 
Ich liebe rote Lacke - und mit dieser Nuance hat essie mal wieder absolut ins Schwarze getroffen, denn "with the band" ist nicht nur ein herrliches gedecktes Rot mit leicht rauchigem Unterton, der Lack ist in jeder Hinsicht ganz große Klasse.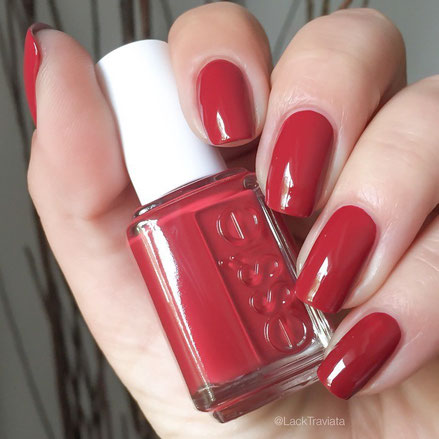 Durch seine cremige Konsistenz lässt er sich super auftragen und die extrem schöne Pigmentierung deckt er in nur einer Schicht (ich habe hier trotzdem zwei Lagen plus Topcoat aufgetragen, um ein noch brillianteres Ergebnis zu erhalten).
Die Trockenzeit ist gut und was ich auch sehr erfreulich fand war, dass er beim Abnehmen trotz der kräftigen Farbe keine Verfärbungen verursachte.
Diese Farbe macht so richtig Spaß und ich bin mir sicher, dass ich sie oft tragen werde - und zwar nicht nur im Herbst, obwohl der Ton für mein Empfinden perfekt in diese Jahreszeit passt.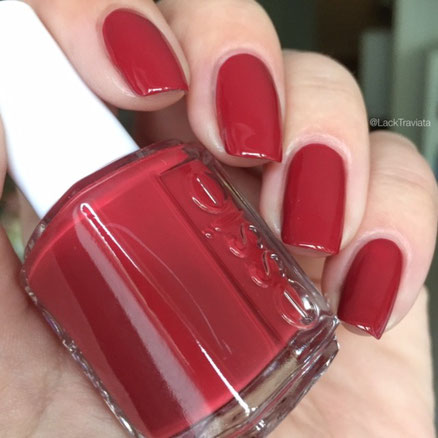 Bislang kann ich alle Lacke aus dieser Kollektion uneingeschränkt empfehlen :-) 
Wenn Ihr mögt, findet Ihr beim Klick auf die Namen auch die Blogposts zu den anderen bisher geswatchten Farben dieser Limited Edition:
Habt ein schönes Spätsommer-Wochenende und eine gute Zeit! 
Bis bald und herzliche Grüße
Eure Meike