[Werbung | Markennennung] 
Hallo Ihr Lieben!
Vor ein paar Tagen habe ich Euch den ersten der drei neuen picture polish-Lacke vorgestellt, die kürzlich in  Kooperation mit Hypnotic Polish gelaunched wurden.
Heute geht es weiter mit dem nächsten Nagellack - und ich finde, dass Sophie auch mit dieser dunklen funkelnden Schönheit einen weiteren Volltreffer gelandet hat.
Auch dieser Lack wurde von einer Kultserie aus den späten 1990ern inspiriert: Sex and the City - bzw. geht es hier um den Traummann von Carrie Bradshaw, der so gut wie nie bei seinem richtigen Namen...
... genannt wird, sondern (Mr.) Big. Diesen Namen gab ihm die Autorin der Serie, Candace Bushnell, aus diesem Grund: "He was one of those New York guys with a big personality—you just notice him as soon as he walks in the room".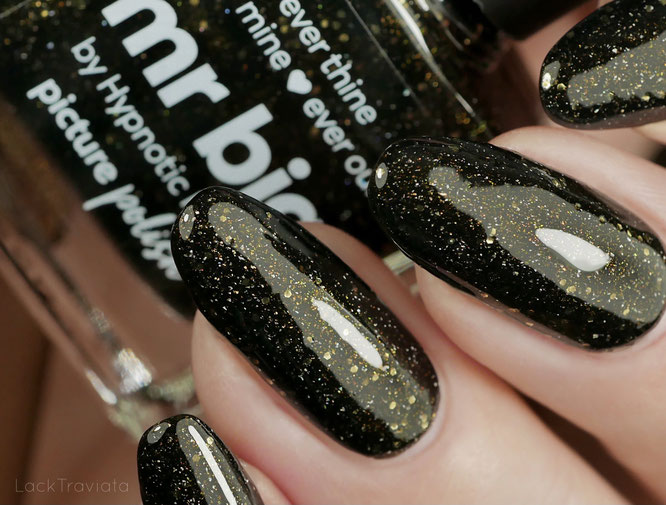 Mit dem Schauspieler Chris Noth war diese Rolle perfekt besetzt (auch wenn mein persönlicher Mr. Big nicht so aussähe wie er). Aber wir schmachten hier ja Lacke zusammen an und keine Kerle, nicht wahr? ;-)
Und ich finde, dass mr big wirklich perfekt zum Anschmachten ist!  Der schwarze Jelly-Holo-Lack ist mit olivgoldenem Glitter in unterschiedlichen Größen durchzogen und sieht schon im Fläschchen unverschämt heiß aus - kein Wunder bei dem Namen!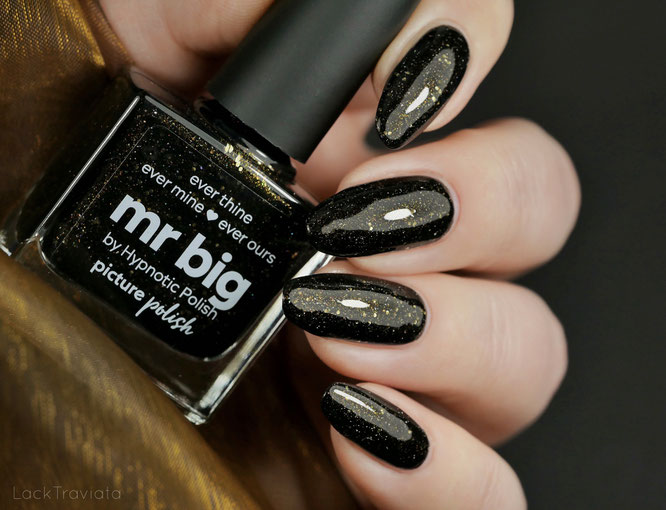 Wie ich es mir erhofft hatte, war das Lackieren hier wieder eine echte Freude: er hat sich super auftragen lassen und deckte zuverlässig mit zwei Schichten, die dank der Textur nicht lang zum Trocknen brauchten.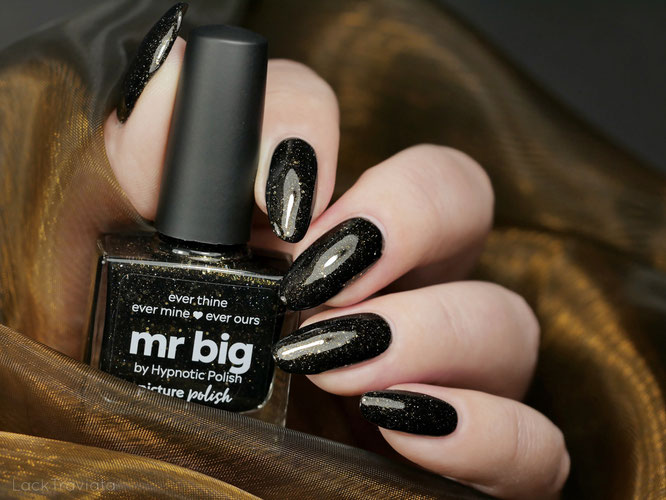 Ihr seht hier zwei Schichten, die ich mit einer großzügig dosierten Schicht Topcoat versiegelt habe, denn durch die enthaltenen Glitterpartikel trocknet der Lack etwas matter und strukturierter. Ich stehe aber auf Hochglanz und finde, dass so auch sein besonderer Effekt besser herauskommt. Da lobe ich mir Seche Vite, den kann man so schön dick auftragen und das Ergebnis wird eigentlich immer top.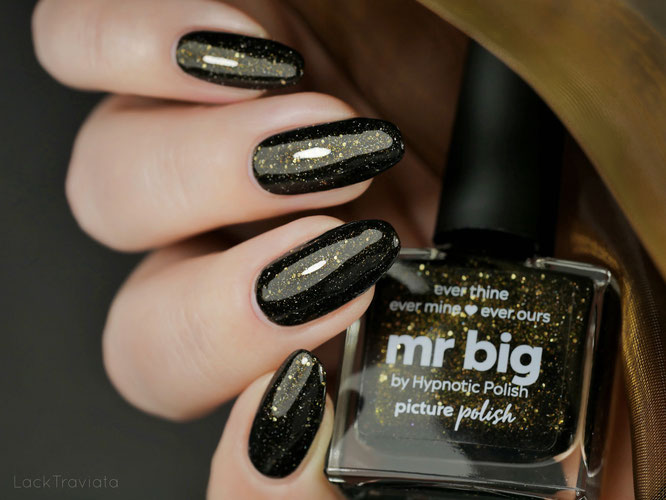 Für mich ist dieser Lack der absolute Favorit aus den drei neuen Farben (die dritte bekommt Ihr natürlich auch noch zu sehen!) Ich finde mr big einfach umwerfend! Und Ihr so? :-)
Bleibt gesund und seid herzlich gegrüßt! 
Eure Meike


Dieser Nagellack ist ausschließlich über Hypnotic Polish oder direkt bei picture polish erhältlich. Ein Fläschchen enthält 11 ml und kostet 13,50 Euro.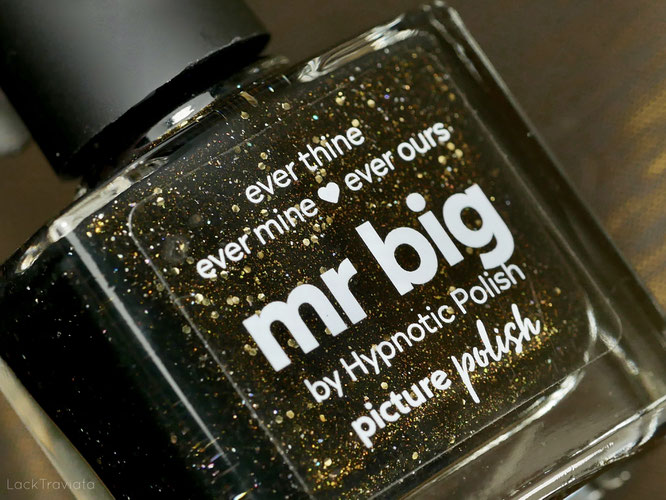 Über Eure Kommentare über die Website-eigene Kommentarfunktion weiter unten freue ich mich genau so sehr wie über DISQUS! Leider bietet die Homepage-Software von JIMDO (noch) nicht an, dass Ihr bei meinen Antworten auf Eure Beiträge benachrichtigt werdet. Hoffentlich ändert sich dies bald. Ich freue mich auf Euer Feedback! ♥