[Werbung | PR-Sample] 
Hallo Ihr Lieben!
Weiter geht es mit dem nächsten Schmankerl aus der aktuellen OPI Scotland Collection!
Heute stelle ich Euch den sagenhaft schönen Clash of the Tartans vor, der als einer von zwei limitierten Farbtönen innerhalb dieser Limited Edition erschienen ist.
Das Besondere an diesem satten beerigen Fuchsienpink ist, dass es matt trocknet und auf den Nägeln wie kuscheliger Samt aussieht. Schnurr! :-)
Und farblich ist diese Nuance auch voll und ganz in meiner persönlichen Komfortzone! 
Vom Blick aufs Fläschchen hatte ich mit einem schimmernden Pink gerechnet und war begeistert, als die Farbe auf dem Swatchstick allmählich immer stumpfer und schließlich ganz matt wurde. Bei vielen Farben finde ich ein mattes Finish ja eher schwierig, doch ab einem bestimmten Anteil an Schimmer, Glitzer und Sättigung tendiere ich zunehmend dazu, Lacke ganz bewusst matt zu pinseln.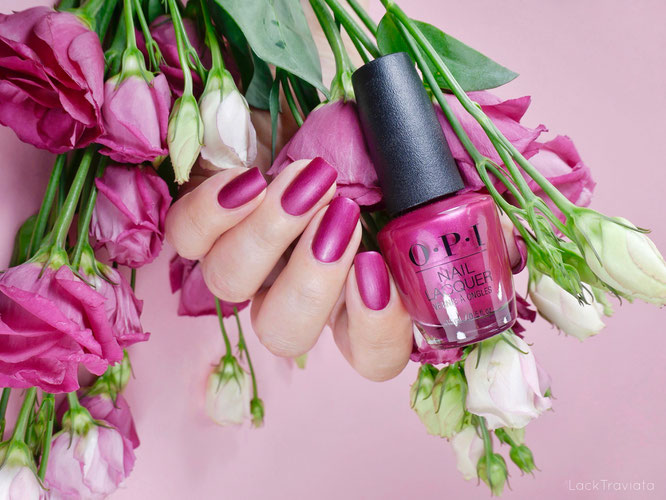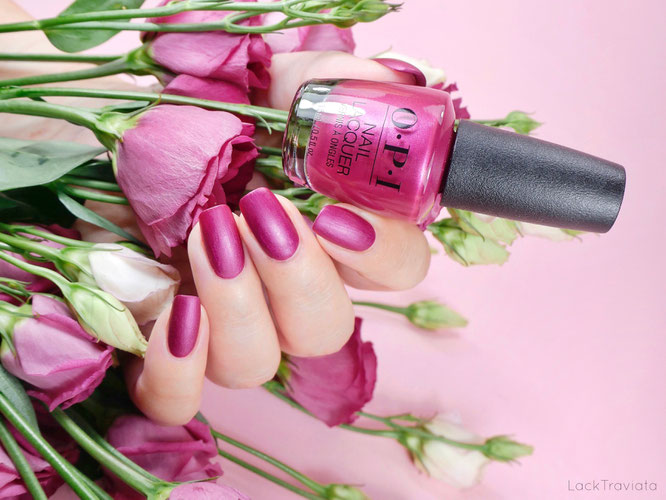 Doch das war Clash of the Tartans nicht nötig. Die Textur des Lackes ist satt pigmentiert und cremig, ich habe ganz hervorragend damit arbeiten können. Der Auftrag mit dem genialen OPI-Profipinsel macht es einem leicht, ohne Mühe ein ebenmäßiges Ergebnis zu erzielen.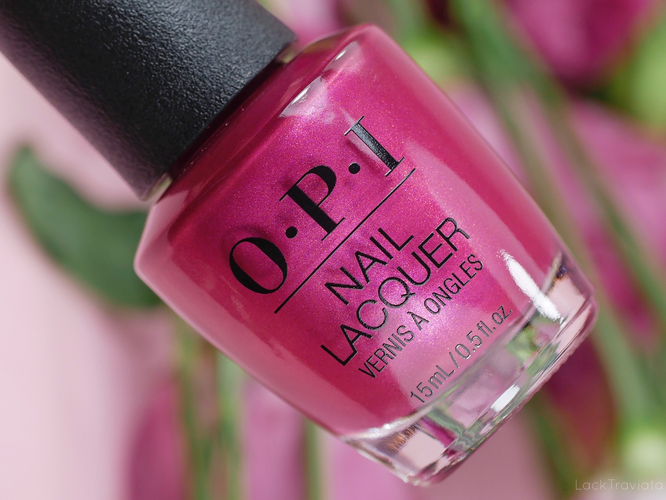 Die bei diesem Lack bemerkenswert kurze Trockenzeit hat mich begeistert. Kaum war ich beim letzten Finger der zweiten Hand angekommen, waren die zu allererst lackierten Nägel bereits halb trocken und zeigten schon das samtige Finish. Wow! :-) Für den perfekten Velvet-Look habe ich zwei dünne Schichten lackiert und keinen Topcoat verwendet. Doch ich begann mich zu fragen, wie dem hübschen Kind ein glänzendes Mäntelchen stehen würde. Und natürlich habe ich es ganz genau wissen wollen. Voilà: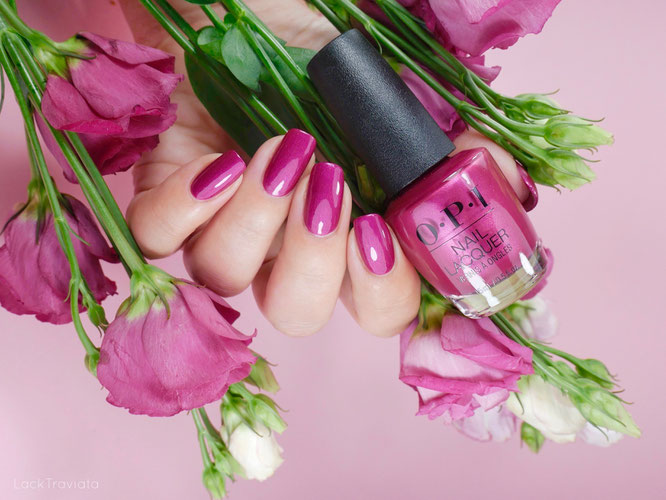 Mein OPI RapiDry hat mir hier ganze Dienste geleistet - mit nur einer Schicht des schnell trocknenden Topcoats wurden die Nägel schön glossy und offenbarten die ganze Magie, die in diesem tollen Lack steckt. Die Bilder sind wie immer zum groß Klicken ;-) Enjoy!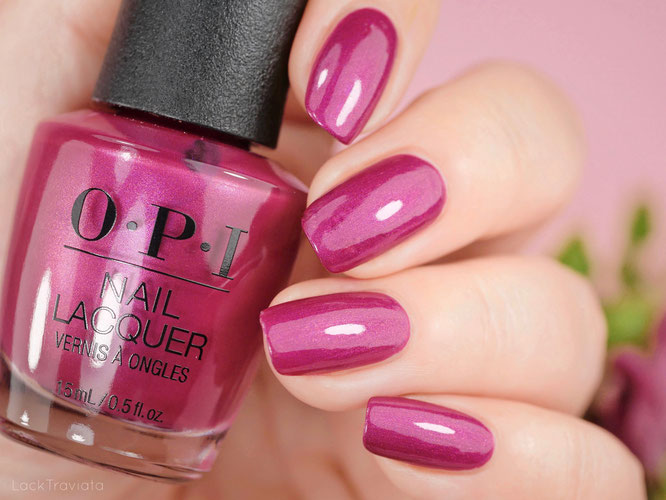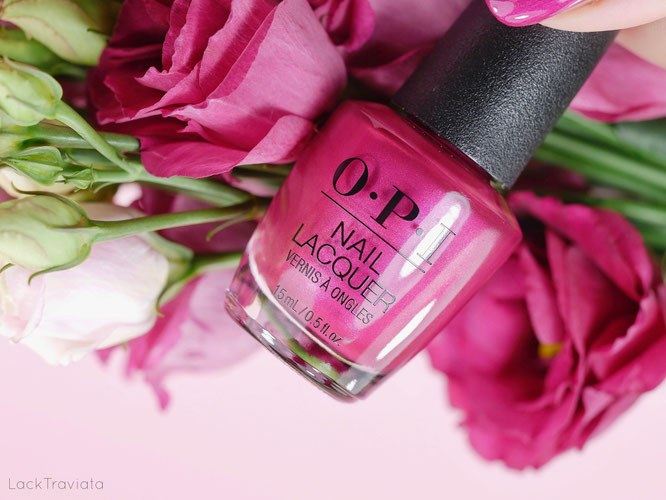 Na, wie findet Ihr den? Seid Ihr auch so bezuckert von dieser Farbe oder ist sie eher nicht so sehr Euer Fall? Für meinen Geschmack ist Clash of the Tartans ein Knallerlack und in beiden Varianten toll. Wobei mir persönlich die matte Variante ja noch einen Tick besser gefällt. Und welche findet Ihr besser?
Ich freue mich auf Euer Feedback und schicke liebe Grüße!
Bis bald, Eure Meike
* PR-Sample, der in diesem Post gezeigte Lack wurde mir kosten- und bedingungslos zur Verfügung gestellt. Herzlichen Dank, liebes Team von OPI Deutschland! ♥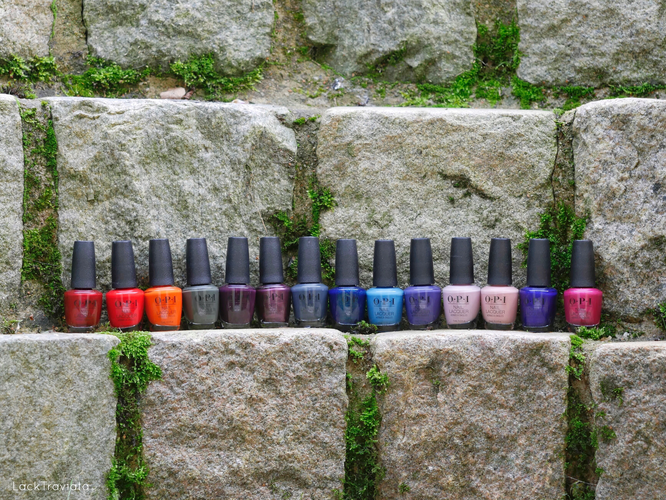 Die Posts bzw. Beiträge zu den anderen Farben dieser Limited Edition werde ich hier nach und nach für Euch verlinken: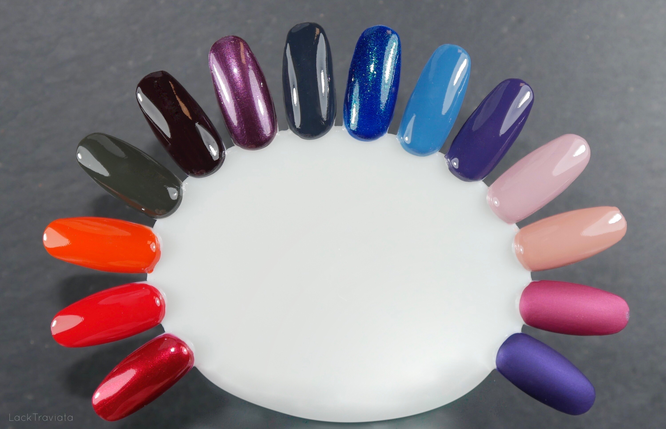 Über Eure Kommentare über die Website-eigene Kommentarfunktion weiter unten freue ich mich genau so sehr wie über DISQUS! Leider bietet die Homepage-Software von JIMDO (noch) nicht an, dass Ihr bei meinen Antworten auf Eure Beiträge benachrichtigt werdet. Hoffentlich ändert sich dies bald. Ich freue mich auf Euer Feedback! ♥