Hallo Ihr Lieben!
[Werbung] Aus dem tollen Paket von CATRICE mit den neuen ICONails-Nagellacken habe ich unter anderem auch dieses sagenhaft schöne Rot behalten. 
Caught On The Red Carpet* macht seinem Namen alle Ehre - das dunkle satte Rot ist ein sehr eleganter klassischer Ton, den es auch schon im Sortiment der bisher erhältlichen Ultimate Nail Lacquers gab.
Die Überarbeitung der Formulierung hat diesen Klassiker nur gewinnen lassen: im Vergleich mit dem "alten" Lack weist dieser hier eine bessere Deckkraft und ein gleichmäßigeres Ergebnis auf - und dann diese Farbe! ♥
Aktuell habe ich wieder einmal so eine Phase, in denen ich am liebsten nur zwischen Rot und Nude auf den Nägeln wechseln würde ;-) Doch keine Sorge: es stehen auch noch viele (zum Teil polarisierende / knallige) Sommerfarben in Warteschleife ;-)
Weil ich aber jüngst einen kleinen "Nagelunfall" hatte (*autsch* und leider aktuell nicht fotogen) und es bis ein paar neue Bilder im Kasten sind vermutlich ein paar Tage dauern wird, zeige ich Euch heute diese Schönheit, die noch auf der Festplatte darauf wartete gezeigt zu werden.
Caught On The Red Carpet ist ein Cremelack mit einer für so ein dunkles Rot erstaunlich guten Deckkraft. Solche Töne sind ja sonst auch gern mal Crelly- bis Jelly-artig, was sich dann in einem scheckig wirkenden Auftrag bemerkbar macht, der dann gut und gern auch mal mehr als zwei Schichten braucht, bis die Oberfläche gleichmäßig deckend ist. Nicht so dieses Exemplar. Zwei dünne Schichten deckten perfekt.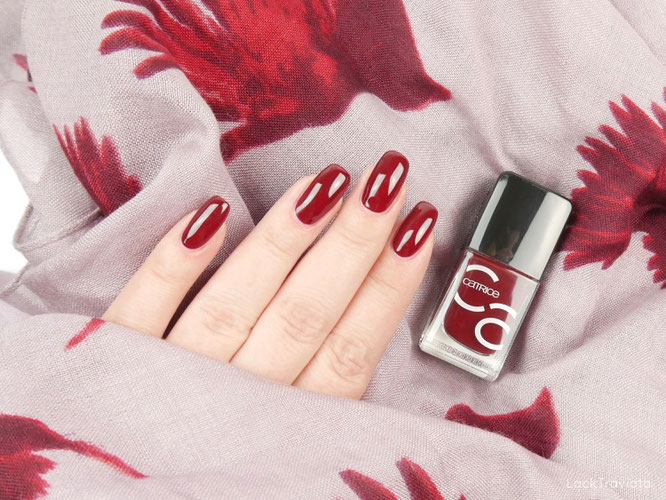 Der Auftrag gelingt einwandfrei und der Lack trocknet schön schnell durch. Zwar hat er aufgrund der Tiefe seiner Farbe schon einen sehr schönen eigenen Glanz (das ist ja auch eine der Neuerungen - die ICONails-Lacke sollen ganz ohne Topcoat auskommen), dennoch habe ich ihm ein Mäntelchen mit dem zur Serie gehörenden Überlack verpasst. Erstens ist er so besser geschützt und zweitens finde ich damit so gut wie jeden Lack optisch einfach noch ein bisschen schöner. Seid Ihr auch solche Topcoat-Nerds? ;-)
Für mich sind die Lacke dieser Linie einfach der Knaller. Inzwischen habe ich schon einige Farben probiert (All Pinklusive, Johnny Deep, For The Berry First Time! ...) und bin bisher von allen restlos begeistert. Habt Ihr die ICONails-Farben auch schon probiert und wie gefallen Euch die Lacke?
Ich bin gespannt, ob es künftig mehr Farben / Limited Editions geben wird (gerade im Bereich grün und blau dürfte es für meinen Geschmack noch ein bisschen mehr Auswahl geben), insgesamt sind im Sortiment aber alle klassischen Farben gut abgedeckt. Einer der schönsten Rottöne ist für mich jedenfalls definitiv Caught On The Red Carpet ♥
Ich wünsche Euch einen guten Start in eine schöne Woche und schicke viele liebe Grüße!
Bis bald
Eure Meike
* PR-Sample, dieser Nagellack wurde mir kosten- und bedingungslos zur Verfügung gestellt. Herzlichen Dank, liebes Team von CATRICE Cosmetics! :-)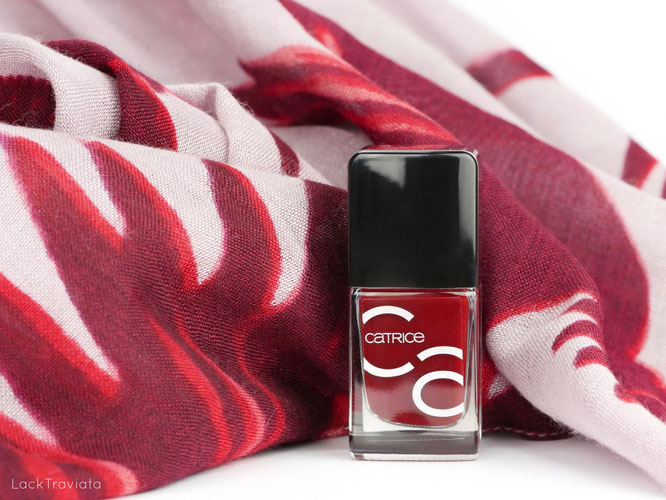 Für Kommentare über die Website-eigene Kommentarfunktion weiter unten benötigt Ihr übrigens keine eigene Homepage, lasst dieses Feld einfach frei - das geht auch ohne Angabe einer Seite ;-) Ich freue mich auf Euer Feedback! ♥