[Werbung | Markennennung] 
Hallo Ihr Lieben!
Ich hatte es ja gesagt: meine Kreativität und die Muße zum Schreiben sind zurück - und mit ihnen zum Glück auch ein wenig Zeit, die es zur Umsetzung braucht ;-)
Heute geht es weiter mit einem Lack, der kürzlich in meine Sammlung einziehen durfte: beim Scrollen durch meinen Instagram-Feed sah ich kürzlich Tragebilder von BSoD (Blue Screen of Death) und war sofort verliebt.
Dieser tiefblaue Jelly-Lack mit weißem und blauen Glitter in unterschiedlichen Größen erschien im Jahr 2018 in der Cadillacquer Fan Collection als 
Collaboration-Shade der Nailbloggerin Elena von @langolodeglismalti. Für meinen Geschmack ist dieser Lack ganz großes Kino - was ein echter BSoD (Blue Screen of Death) für die Benutzer eines Windows-PCs definitiv nicht ist. 
Diese Bezeichnung steht nämlich für eine Windows-Fehlermeldung, die den Benutzer zum Neustart des Computers zwingt, um das Problem zu beheben. Dabei können dann nicht gespeicherte Daten verloren gehen und die Festplatte beschädigt werden. Da lobe ich mir doch meine überzeugte Treue zu Äpfeln, die mir sowas erspart ;-)
Aber nun zum Nagellack! BSoD ist wie eingangs erwähnt ein Jelly-Lack, der sich trotz der enthaltenen teilweise größeren Glitterteilchen gut lackieren liess und überraschend gut deckte. Es brauchte nur zwei zugegebenermaßen etwas großzügiger dosierte Schichten, um dieses tiefe und vielschichtige Endergebnis zu erzielen.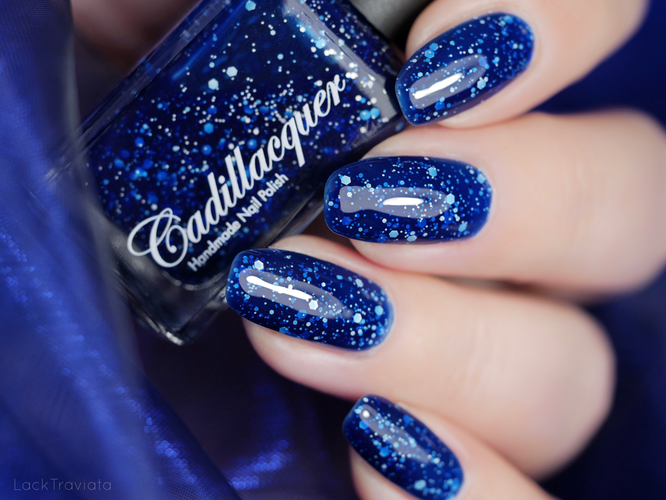 Obwohl ich diese etwas dickeren Schichten aufgetragen habe, war die Trockenzeit nicht allzu lang. Perfekt! Und was mir ebenfalls sehr gefiel: normalerweise sind Lacke mit solchen special effects ziemlich stumpf und wirken schnell rau, oftmals braucht man da mehr als eine Schicht Topcoat, um ein glossy finish zu zaubern. Hier reichte nur eine Lage Seche Vite (auch den habe ich wieder etwas dicker aufgepinselt), um die Oberfläche spiegelglatt werden zu lassen.
Ich bin ja schwer begeistert - sowohl von seinen Eigenschaften als auch von der Optik. Durch die Glitterteilchen wirken die Nägel doch ein wenig wie Ausschnitte aus einem sternenklaren Nachthimmel, oder? Wie gefällt Euch dieser Lack?
Ich freue mich auf Euer Feedback und schicke liebe Grüße!
Bis bald, Eure Meike
Diesen Nagellack habe ich bei Hypnotic Polish gekauft, 15 ml kosten 11,50 Euro.
(unaufgeforderte und unbezahlte Werbung)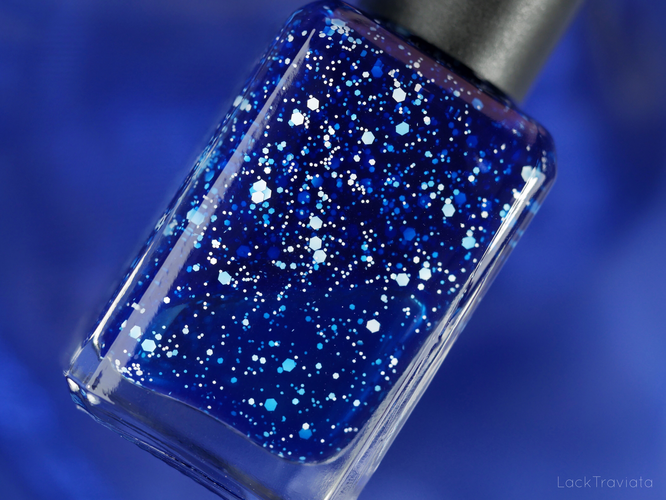 Über Eure Kommentare über die Website-eigene Kommentarfunktion weiter unten freue ich mich genau so sehr wie über DISQUS! Leider bietet die Homepage-Software von JIMDO (noch) nicht an, dass Ihr bei meinen Antworten auf Eure Beiträge benachrichtigt werdet. Hoffentlich ändert sich dies bald. Ich freue mich auf Euer Feedback! ♥