[Werbung | Markennennung] 
Hallo Ihr Lieben!
Vor kurzem hatte ich Euch bereits einen Lack aus der Dior Addict Stellar Shine Collection gezeigt, die Ende März gelaunched wurde.
Neben dem korallroten LUCKY DIOR 539 habe ich seinerzeit noch einen weiteren Lack aus dieser Kollektion geschenkt bekommen:
Die Freude war groß, als ich den tollen BE DIOR 976 auspackte, dessen strahlendes Rotpink mit hauchfeinem violettem und goldenen Microschimmer ist nämlich voll und ganz mein Fall! Wie sein Geschwisterlack hat auch er mich vollkommen begeistert!
Aber das tun die Lacke von Dior eigentlich immer, ich habe bei dieser Marke bislang keinen Lack erlebt, der mich qualitativ enttäuscht hätte.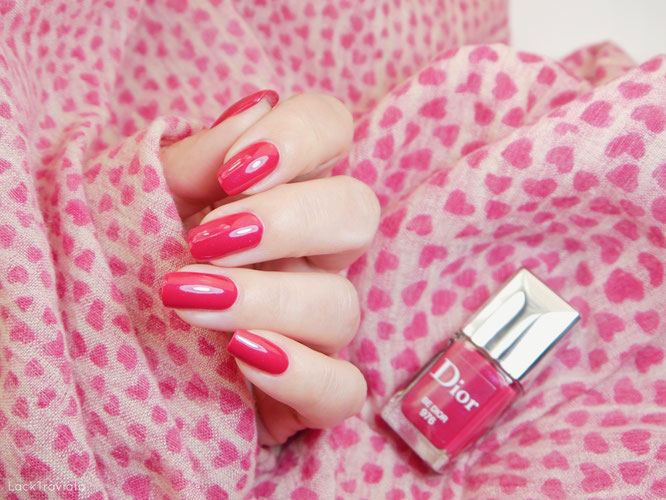 So habe ich mich auch bei BE DIOR 976 über einen sagenhaft reich pigmentierten und schon mit nur einer Schicht deckenden Cremelack gefreut.  Der Auftrag war wie erwartet ein Kinderspiel und seine Trockenzeit kurz.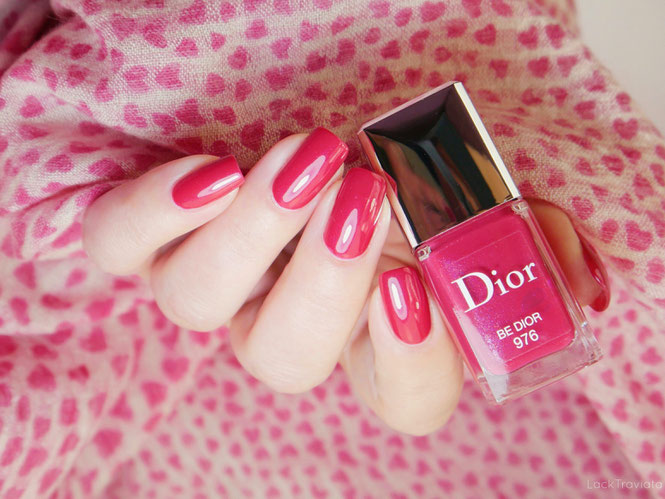 Der eigene Glanz nach dem Trocknen war durch die im Lack enthaltenen Schimmerpartikel noch nicht ganz so hochbrillant und spiegelnd glänzend wie ich es am Schönsten finde - mit einer Schicht Seche Vite dann schon. Ich bin ja überzeugt davon, dass ein Topcoat nicht nur für eine bessere und längere Haltbarkeit sorgt, er holt meiner Meinung nach das Beste aus jedem Lack heraus - wobei es hier um ehrlich zu sein so gut wie kaum noch etwas zu verbessern gab.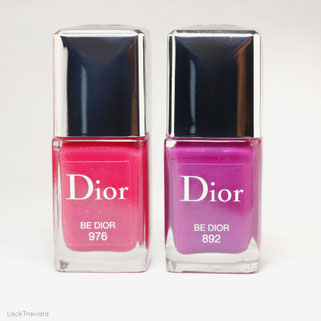 Als ich beim Auspacken den Namen dieses Lackes las, dachte ich mir, dass ich ihn bereits besäße, denn ich erinnere mich gut daran, einen Lack mit diesem Namen vor zwei, drei Jahren gezeigt zu haben.
Der Blick in den Lackschrank und in meine akribisch geführten Nerd-Nagellack-Listen zeigte, dass ich mich richtig erinnerte: der Namensvetter BE DIOR 892 trägt aber erstens eine andere Nummer (er erschien in der Dior Addict Collection im Herbst 2015) und weicht zweitens wie Ihr hier sehen könnt deutlich ab. In meiner Erinnerung war er weit weniger violett als er hier auf dem Vergleichsfoto wirkt.
Farblich kommt der jüngere BE DIOR 976 erstaunlich nah an LUCKY 659 heran, von dem ich leider noch kein schönes Tragebild habe (höchste Zeit, dies zu ändern, denn die Farbe ist so schön!). Allerdings trägt letzterer keinen Schimmer in sich, sondern ist ein einfacher Cremelack. 
So oder so freue ich mich sehr über den hübschen Neuzugang und habe ihn begeistert drei Tage lang getragen. Wie erwartet hat er mich nicht enttäuscht, lediglich sein finish war nach dieser Zeit nicht mehr ganz so glossy.
Ich wünsche Euch nun ein schönes Wochenende und schicke liebe Grüße! Macht's gut und bis bald!
Eure Meike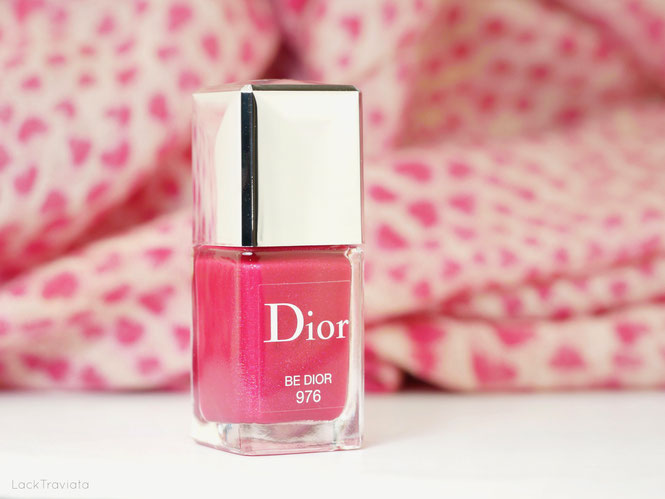 Über Eure Kommentare über die Website-eigene Kommentarfunktion weiter unten freue ich mich genau so sehr wie über DISQUS! Leider bietet die Homepage-Software von JIMDO (noch) nicht an, dass Ihr bei meinen Antworten auf Eure Beiträge benachrichtigt werdet. Hoffentlich ändert sich dies bald. Ich freue mich auf Euer Feedback! ♥