Hallo Ihr Lieben!
Wenn es wie in der jetzigen Zeit viele Anlässe gibt, zu denen man miteinander anstößt, wäre Champagner dafür meine erste Wahl (heute mal ganz unbescheiden...). Na gut, einen schönen Cremant oder auch einen guten Sekt ließe ich auch nicht stehen - aber Champagner hat schon was!
Genau wie Running out of Champagne* - der als einziger Lack der GALA the big party Collection kein Cremelack ist, sondern in einer genialen Crelly-Konsistenz die geballte Dosis Glitter mitbringt. 
Und genau wie Champagner ist dieser Lack perfekt für besondere Momente...
Und im Gegensatz zum Getränk verursacht diese Glitterbombe keinen Schwipps oder gar leichtes Köpfchen am nächsten Tag - dafür sorgte er bei mir für extrem gute Laune und das starke Bedürfnis, immer wieder verzückt auf das Galaxie-Funkeln auf meinen Nägeln zu starren.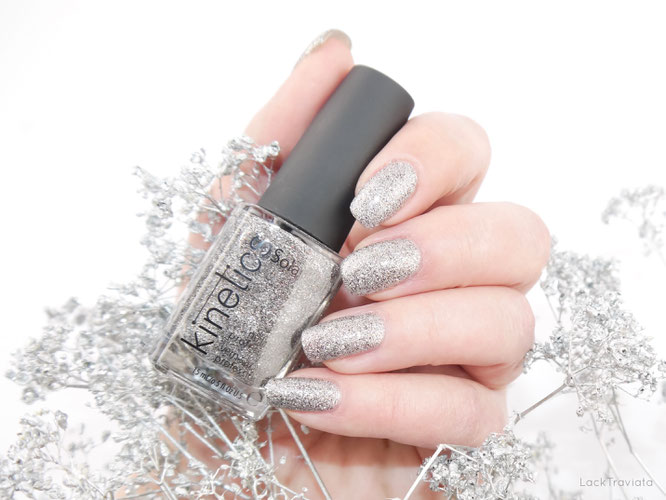 In der Base überwiegen silberne, graue und schwarze hauchfeine Glitterpartikel. Für kleine Highlights sorgen kupferfarbene, violette und goldene Glitterteilchen, die aber deutlich sparsamer dosiert sind. In der Detailaufnahme des Fläschchens (wie immer sind alle Bilder zum Groß-Klicken) kann man das sehr gut erkennen :-)
Der Auftrag gelingt überraschend gleichmäßig und schon mit der ersten Lage erstaunlich deckend - toll! Und kaum war ich mit der ersten Schicht fertig, war diese auch schon so gut wie durchgetrocknet. Mit der zweiten Schicht dann war die Oberfläche einwandfrei deckend. Eine Schicht des SolarGel Topcoats hat das Funkeln noch verstärkt.
Einzig das Abnehmen war ein wenig aufwändiger, wie es für Glitterlacke normal ist (aber mit Peel-Off-Base darunter ist auch das dann ein Kinderspiel, daran werde ich beim nächsten Mal denken). 
Wie gefällt Euch diese kühle Glitzerschönheit? 
Habt einen schönen vierten Advent!
Herzliche Grüße und bis bald,
Eure Meike
* PR-Sample, dieser Nagellack wurde mir kosten- und bedingungslos zur Verfügung gestellt - vielen herzlichen Dank, liebes Kinetics-Team! :-)