[Werbung  | Markennennung] 
Hallo Ihr Lieben!
Heute geht es gleich weiter mit dem nächsten Nagellack aus essies "Viva Antigua!" Sommer-Limited Editon, die aktuell  gerade in die Drogeriemärkte und Parfümerien Einzug hält. 
Von den insgesamt sechs Farben dieser Kollektion durften insgesamt fünf Töne mitkommen, von denen ich Euch berried treasures (korallpink) und viva antigua! (türkis) ja bereits gezeigt habe. 
Und mit loot the booty kommt die nächste Glitzer-Granate! Das gedämpfte Royalblau wird durch blaue, pink- und türkisfarbene Glitterflakies zum echten Hingucker :-)
Schon im Fläschchen hat loot the booty eine unglaublich vielversprechend schöne Aura - aber auf den Nägeln finde ich ihn noch toller!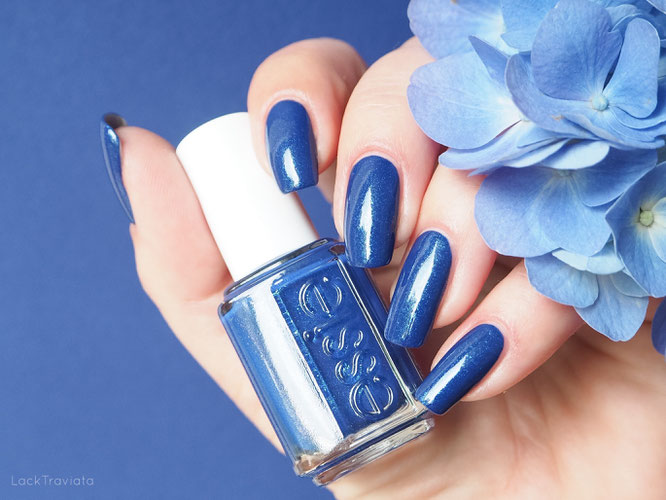 Die Crelly-Konsistenz ist sehr gut zu lackieren - durch die gute Pigmentierung reichen zwei Schichten für ein ebenmäßig deckendes Ergebnis.
Auch bei diesem Nagellack war wie bei den bisher gezeigten Farben dieser Kollektion die Trocknungszeit schön kurz - aber auch er bekam für ein noch glänzenderes Finish eine großzügige Lage Topcoat geschenkt, was das Funkeln dieses Schätzchens noch verstärkte.
Bislang ist er dicht gefolgt von viva antigua! mein Favorit aus dieser Kollektion - aber wer weiß? Es stehen ja noch zwei weitere Kandidaten in den Startlöchern und bis ich die probiert habe, mag ich mich noch nicht hundertprozentig festlegen ;-)
Für jetzt erst einmal einen schönen Donnerstag und bis bald!
Liebe Grüße, Eure Meike